Knox visitor attractions and facilities
From Helderberg Hilltowns of Albany County, NY
THIS PAGE IS UNDER CONSTRUCTION.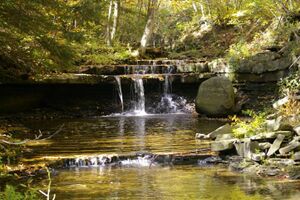 Like all of the Albany hill towns, Knox is known for its natural beauty: pastoral rural countryside, rolling hills, meandering creeks, waterfalls, forest land.
Current events
Any one knowing of current event is welcome to post a notice here.
Reserves and outdoor recreation
The town of Knox is fortunate to have a large number of natural areas and outdoor recreation opportunities to give reasons for folks to come visit and enjoy.
Knox Cave, one of dozens of caves in the Helderbergs, was open commercially from 1933 to 1958. It is now owned by the Northeastern Cave Conservancy and a permit is required to visit it. The cave is closed when bats are hibernating to protect them. The cave has features that fascinate experienced cavers, but Knox Cave is extremely dangerous for inexperienced "adventurers."
Helderberg Mountains - The Helderberg Escarpment is a limestone escarpment in the highlands of western Albany County, New York. They are in the towns of Berne, Knox, Guilderland, and New Scotland. The escarpment is an abrupt limestone cliff, running north-south dividing Albany County into the Hudson Valley to the east, and the uplands of the Helderberg Plateau to the west.
Wolf Creek Falls Preserve has 135 gorgeous acres open for public hiking, contains streams and waterfalls, a wetland, and numerous, old stone walls.
Hudson and Nancy Winn Preserve is along the Helderberg Escarpment and is geologically significant. It is partly in the Knox Land Conservation District #2; the southern boundary of the District is Truax Road, an old farm-to-market road that is extensively used by hikers, hunters, horseback riders and snowmobiles.
Limestone Rise Preserve is owned and managed by The Nature Conservancy. There are no caves on the property, but some fine karst including solutionally-enlarged joints and sinkholes. Great birding site. Helder-hiking blogspot has a map and description of hiking trails and scenery.
Thompsons Lake State Park offers a beach, a playground and playing fields, picnic tables, recreation programs, a nature trail, fishing and ice fishing, a boat launch, a dump station, campground for tents and trailers, cross-country skiing and snowshoeing. The park is adjacent to the Emma Treadwell Thacher Nature Center, which park users also have access to.
The Emma Treadwell Thacher Nature Center opened in July 2001 and is located near the shore of Thompsons Lake between Thompsons Lake State Park and John Boyd Thacher State Park. Exhibits and displays include a geologic model of the Helderberg Escarpment, a live honeybee observation hive, bird viewing area, fossils, furs and other hands-on collections. Trails for hiking and skiing lead from the nature center to the lake, through woodlands and fields. The center offers educational programs for school groups, youth organizations, clubs and the general public. Restored one-room Knox School No. 5 is reached by a short trail from near the entrance.
Burke Wildlife Management Area has 246 acres, upland, parking lot, birdwatching, cross-country skiing, snowshoeing, hunting and trapping. It has easy hiking trails.
Helderberg Bird Conservation Area consists of 6,594 acres of Partridge Run WMA and State Forest, Burke Wildlife Management Area, and Cole Hill State Forest. It is an upland complex that includes hardwood and conifer (plantation) forests, young regenerating forests, old fields, shrub lands, reverting farmland, wooded swamp, shrub wetlands, and numerous ponds and wetlands.
Camp Lovejoy, operated by Boys and Girls Club of Schenectady, is located in the Town of Knox in the Helderberg Mountains. The former Cassidy Castle was acquired in 1957 with a generous contribution from Jesse R. Lovejoy. The grounds include a swimming pool, ponds, hiking trails, an outdoor amphitheatre, arts and crafts building, picnic pavilions, playing fields and an adventure ropes course.
Knox Town Park has a small boardwalk going into a marshy area for bird watching.
Long Path - north end of this trail is a short distance from Knox.
Other Hill town trails.
Farms and farm activities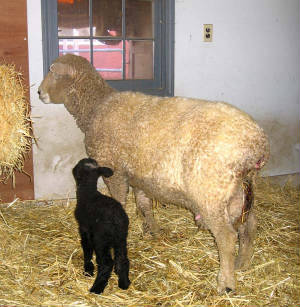 Altamont Farmers' Market - Saturdays from 10-2. RR Station at Orsini Park, Main St, Altamont.
Armstrong Furniture & Machinery - Large selection of quality wood furniture, reasonable prices. Berne Altamont Rd. at Witter Rd.; Tel. 872-0369.
Bozen Creek Fiber Farm - 485 Bozenkill Rd; Tel. (518) 861-8575.
Busch Farm - Hay. Open year round by appointment. Busch Ln. (518) 872-1664.
Frantzen's Scenic Acres - featuring grass fed beef, antibiotic and hormone free turkeys, free range chickens and eggs. A member of Local Harvest. Dale & Cheryl Frantzen, 248 Line Road Knox; Tel. (518) 872-1199. Email: Frantzen's Scenic Acres
Gaige Farms - Registered Holsteins. Family run dairy. Visit the cows and see how they are milked. David, Donna, Jessica, Allison & Gregory Gaige, 433 Knox - Gallupville Road; Tel. (518) 872- 0280 or Email Gaige Farms.
Gordon Farms, Inc. - Grass fed beef, baled hay, composted bio fertilizer. A member of the Heldeberg Market. Alexander Gordon, 144 Beebe Rd., Knox, Tel. (518) 872-2602. Email: Gordon Farms
Heldeberg Market - makes available fresh hilltown produce from many of the hilltown farms delivered weekly to your door. Sarah Gordon. 669-3447
Helderberg Highlands - Registered Highland Cattle breeding stock and natural beef. Open by appointment. 392 Craven Rd. Tel. (518) 895-2269.
Longfield Farm - naturally-raised lamb, wool and artisan breads. Hormone-free animals. Sapbush Hollow Farm meats. Longfield Farm Stand open Wednesdays from 4-7. Pam & Gary Kleppel, 1093 Township Road, Knox; Tel. (518) 861-5280 or Email Longfield Farm.
Mae Flowers & Greenhouse - Annuals and perennials; vegetable plants and herbs: assorted hanging baskets. Open 7 days a week from 8am - 6pm. Mae Roberts, owner. 1764 Berne - Altamont Rd., (Rt. 156). Tel. 872-1322.
Malachi Farms - Highland Cattle and breeding stock. Will deliver firewood anywhere in Capital District. 2548 Berne Altamont Rd.; Tel. (518) 872-1657.
Pleasant Valley Exquisitum - Exquisite gifts in all price ranges from around the world. Pleasant Valley Rd., Knox; Tel. 872-0394.
Ponies for Hire - Pony rides and farm animals. Riding lessons, petting zoo, birthday parties, fund raisers. Open year-round. 1996 Berne Altamont Rd.; Contact Contact Sue Mason, Tel. (518) 872-9406.
Octagon Barn - Holiday markets and special events. On the property of Russ and Amy Pokorny, Knox. Tel. (518) 872-9698, 9131 or Email Octagon Barn.
Patroon Land Farm - Patroon Land Farm produces of food for the needy and opportunities for agricultural education. Farm stand and the Patroon Land Farm CSA.[1] A member of Local Harvest. Managed by the Regional Food Bank of Northeastern New York. Ketchum Road, Knox, near Thatcher Park. Contact: Mark Weinheimer, Email Regional Food Bank
Rolling Acres Farm - 6829 Dunnsvile Road, Altamont, 12009. Tel. (518) 355-5722.
Sunridge Farm - Rough-cut lumber and custom sawing. Open year round, 9am-5pm. No appointment necessary. 273 Beebe Rd.; Tel. (518) 872-2841.
Van Etten Christmas Tree Farm - Landscaping trees and hayrides. Christmas trees. Also the home of Ponies for Hire. 2000 Berne Altamont Rd.; Tel. (518) 872-1895.
Woodview Sugarbush - Handmade beeswax candles, maple syrup, and maple candy and local honey. Open 11am - 4pm or call. Open for tours March-April and Maple Festival Palm Sunday. 1/8 mi. west of intersection of 146 and Knox Cave Rd. 1755 Township Rd. (Rte. 146); Tel. (518) 872-0207.
Historic buildings and sites
Historic buildings, (other than public buildings and those listed under "Visitor facilities"), may not be open to the public, and may just be viewed from the road. Please respect the privacy of the owners and occupants.
Historic Buildings
Historic cemeteries and family burying grounds
The following historic cemeteries and family burying grounds are easily accessible and are maintained. There are many more that are abandoned and overgrown.
Historic sites
Visitor facilities
Visitor facilities in Knox and nearby towns.
Something to eat
Places to eat in the town of Knox and surrounding communities:
The George Mann Tory Tavern Tel. - Fine dining in an historic building. Gallupville Rd, Schoharie; (518) 295-7128.
The Highlands Restaurant and Tavern - Fine dining bar and restaurant with panoramic views; in an historic home. 1670 Berne Altamont Rd. just east of Thompsons Lake Rd.; Tel. (518) 872-1938. Email: Highland Farms
History of Highlands Restaurant.
Home Front Cafe - Home style cooking in a friendly atmosphere. Not really on the hill, but a favorite with folks from the hill towns. 192 Main St, Altamont; Tel. (518) 861-6452.
Township Tavern - Bar and family restaurant, party facility in a recently renovated restaurant in an historic hotel in the hamlet of Township. Township Rd.; Knox; Tel. (518) 872-2100
Maple Inn - a family restaurant and bar in an historic hotel at 64 Main Street, East Berne (off Rt. 443); Tel. (518) 872-9433.
History of Maple Inn
The Olde Corner Store - 133 Factory, Gallupville. Tel. (518) 872-1610.
Pleasant Valley Kitchen Co Llc - # 398 Pleasant Valley Rd, Altamont; Tel. (518) 872 -0976.
The Hofbrau - a German restaurant in an historic resort on the shore of beautiful Warners Lake at 141 Warners Lake Rd., East Berne; Tel. (518) 872-1016 / 872-9912.
History of The Hofbrau.
Places to stay
For something special
Black Sheep Antique Center - RR 20, Duanesburg; Tel. (518) 895-2983.
The Farm Art & Antiques - 2382 Western Tpke Route 20 Duanesburg; Tel. (518) 355-5244.
Remember When - 5118 Western Tpke., Duanesburg; Tel. (518) 895-8161.
Vicki's Consignments & Treasures - Knox Cave Rd., Altamont; Tel. (518) 861-5714. Email: Vicki's Consignments & Treasures
Photo Gallery
Images showing the beauty of the Knox country side.
Please upload additional images.
Adjoining hill towns
Farms, natural areas, outdoor recreation opportunities, and visitor facilities in adjoining hill towns:
Proposals
Proposals for enhancing farms, natural areas, outdoor recreation opportunities and visitor facilities in the hill towns:
↑ Community Supported Agriculture (CSA) - a popular way for consumers to buy local, seasonal food directly from a farmer. Here are the basics: a farmer offers a certain number of "shares" to the public. Typically the share consists of a box of vegetables, but other farm products may be included. Interested consumers purchase a share (aka a "membership" or a "subscription") and in return receive a box (bag, basket) of seasonal produce each week throughout the farming season.