Long Path
From Helderberg Hilltowns of Albany County, NY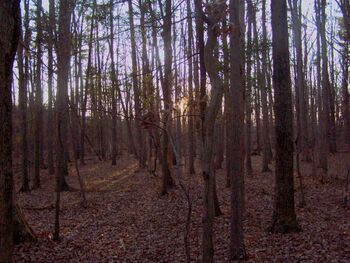 The Long Path runs from George Washington Bridge in Fort Lee, New Jersey to the Village of Altamont.
It crosses the Town of Berne, going from Cotton Hill and Cannady State Forests in Schoharie County to the west, across the Partridge Run Wildlife Management Area, through Cole Hill State Forest where it has 270-degree views of both the Catskills and Adirondacks from Roemer's High Point along the Helderberg Escarpment, and continues north to John Boyd Thacher State Park, the Indian Ladder and finally its current end at NY 146.
Proposed Extensions
Burke Extension - Truax Road trail extends from Street Road most of the way to the State-owned Burke Wildlife Management Area. It would be desirable to develop a public trail to the State land, and from there, along the Helderberg Escarpment edge, to High Point and the Long Path.
Warners Lake Trail - There could be a trail from the top of Cole Hill starting at The Long Path and down the hill somewhere and along the tree line on the east side of the Cole Hill valley, across Fox Creek at the bridge on Cole Hill Road and up the old Camp Orinsekwa Lane and along the west side of Warners Lake and on to the Knox (Burke) Preserve. Along the lake it might be used by bicyclists and runners as well as hiker
Huyck Preserve Extension - The Long Path, which crosses Partridge Run NYS Wildlife Management Area near the northern town line between Rensselaerville and Berne should have an extension trail to the The Edmund Niles Huyck Preserve and Biological Research Station.