Partridge Run
From Helderberg Hilltowns of Albany County, NY
Description
Partridge Run State Wildlife Management Area consists of 5,478 acres of former abandoned upland farms.
History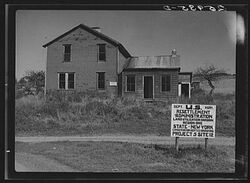 Most of the farms on West Mountain were bought by the Resettlement Administration in the 1930's. Many farms had already been abandoned due to repeated cropping with buckwheat, barley and rye. Soil erosion was commonplace. Much of the land, up to 80% had been deforested for farming. Federal money was used to purchase the unproductive farmland for just 2 to 4 dollars per acre. The government helped to move many of the farm families to other areas.
However, several farms remained in the possession of the farmers. A few of these included the William D. Wood farm, the Crosby farm (Lot 401), Peasley farm, and the Sherbin farm. Katie Wood, wife of William D. was approached by the Resettlement Administration during the 1930's and asked to sell her farm, to which as history tells, she answered with a solid 'No".
One of the last farmers was Ellery Shufelt.
In the early 1940's, the Federal government granted the NYS Conservation Department a 99 year lease for what is now much of the Partridge Run Wildlife Management Area. The sum of $1.00 was the price for the lease, with three purposes stated for the land, forestry, wildlife and recreation. Over the next 20 years the total land accumulation through the Dept. of the Interior and the Division of Lands and Forests brought the total acreage to 5,478.
Improvements
Partridge Run SWMA has been improved with hiking trails, and parking lots and is available for birdwatching, cross-county skiing, snowshoeing, hunting, fishing and trapping. Over 40 miles of old CCC fire roads, single track and double track trails. Hunting is allowed here in all seasons for different species of game, check with the NYSDEC (518-357-2067) for seasons and dates. Take a GPS along here, since the network of trails here is not well marked and it is a very large area to cover.
Cross Country Skiing
At an elevation of 1800-2000 feet Partridge Run tends to get more snow and hold it longer than in Albany which is at about 300 feet. There's a very nice 7-8 mile ski loop with some challenging hills. Nothing is groomed here and it's more like back country skiing
Management
Partridge Run and Cole Hill State Forest are units in the Helderbergs Management Area of the NYS Department of Environmental Conservation.
Location
This WMA is located on West Mountain in the Town of Berne.
From Rensselaerville take NYS Route 85 north one mile, turn left on County Route 6, go 3 miles to state land.
From Albany take Route 85 (New Scotland Avenue) west to Route 443. Continue west on Route 443 through the hamlet of Berne, then make a left onto Canaday Hill Road. Turn left onto Switzkill Road. Follow this road south, then bear right onto Ravine Road. Follow Ravine Road until you see a parking area on your left at the intersection of Sickle Hill Road. This is one of many parking areas throughout Partridge Run, but it is the closest starting point from Albany.
Hiking
Fawn Lake to White Birch Pond by Andy Arthrur, March 14, 2009.
While in the Area
Nearby places to visit while in the area:
Sights to see
Cemeteries
In the 19th and first couple of decades of the 20th Century, West Mountain was heavily settled. Here are some easily accessible historic cemeteries within or near the boundaries of Partridge Run that folks might want to visit while they are in the vicinity:
Visitor Facilities
Farms, natural areas, outdoor recreation opportunities, and visitor facilities in adjoining hill towns:
Additional Media