Shufelt, Ellery
From Helderberg Hilltowns of Albany County, NY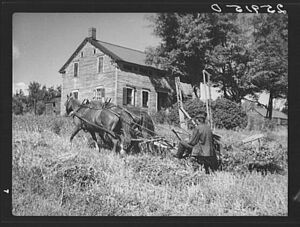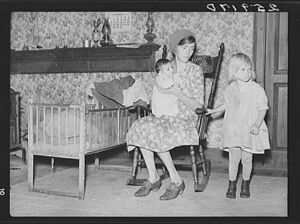 Birth
Ellery Shufelt was born 22 Feb. 1895 in Schoharie, one of nine children of Menzo Shufelt and Martha Elizabeth Arnold.
Education
He never got beyond the fourth grade and could not read nor write. Ellery was called to service in October of 1918
Marriage
Ellery married his wife Beatrice in May of 1933. They had four children:
Carolyn Virginia Shufelt b. 1933. After her parents were stricken with TB she was raised by her aunt Carrie Shufelt Bogardus and uncle Arthur.
Arthur Menzel Shufelt b. 1936
Martha Shufelt b. 1937
Catherine Shufelt
Life
The family was one of the last families to live on West Mountain in the 1930s when they were squatters during the time the federal Land Recovery Program were buying up abandoned and marginal farms. (Read the article on Partridge Run State Wildlife Management Area for more information about this period in the history of the Berne.)
Both Ellery and his wife were stricken with TB.
Gallery
These photos were taken by Arthur Rothstein, the well known photographer for the Farm Security Administration.