Baptist Church Burying Ground
From Helderberg Hilltowns of Albany County, NY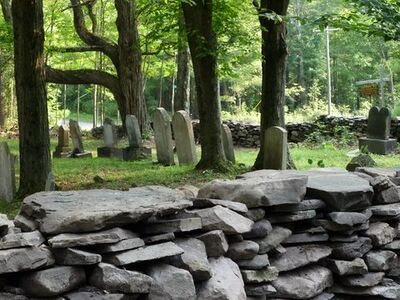 Location
The Baptist Church Cemetery is located on West Mountain within the boundaries of the Partridge Run NYS Wildlife Management Area on Bradt Hill Rd. at the corner of Peasley and Wood Roads. It is surrounded by a stone wall fence.
Description
140 by 180 feet. Fenced. The cemetery is in fair condition with some fallen stones. There is some evidence of vandalism. It is mowed regularly by the Town of Berne. In the summer of 2009 the Berne Summer Youth Program repaired the stone wall.
History
Burials took place in the Baptist Church Cemetery for over a century. The earliest readable death date is 1800 and the most recent was in 1929. Among the more than a hundred tombstones are the names: Allen, Bouton, Miller, Peasley, Rhodes, Ryan, Sherman, Shultes, St. John, Tubbs, Vroman, West, Wood, and Young. Seven Revolutionary War soldiers and a daughter of a Lord Mayor of London are buried here.
Transcription of stones
The Berne Historical Project site has a partial listing of stones based mainly on the 1936 transcription done by Lt. Col. and Mrs Hannay. There is a list of Burials at the Berne Town Hall.