Township Hotel
From Helderberg Hilltowns of Albany County, NY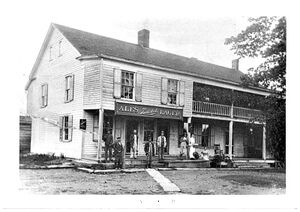 Location
1412 Township Road, Knox.
History
The building in the Knox hamlet of Township is about 180 years old. Once the Township Hotel, the way station served as a halfway point between Schoharie and Albany
Harry and Delia (Barney) Palumbo had a tavern there for a long time. It was sold twice and then a third time to Paul Centi in 2006 and is now a family dinner destination. Prior to Paul opening it a large addition was added to the back of the building. The bar area was remodeled and relocated to the west side of the building.
What a shame that when the front of this building was last remodeled there was no attempt to restore the historical look of the building. It would have made it worth visiting to see the outside instead of just what is inside.
Operating as the Township Tavern for many years when it as owned by Harry and Delia "Barney" Palombo.
It was recently owned by Owen and Mickey Rivenburg.[1]
Lucky's Tavern[1]
Hilltop Café[1]
2006 the building was bought by Paul Centi 2007 Township Tavern operated by Paul Centi[1]
Additional Media
Articles and Pictures
Sources