Knox Cemetery
From Helderberg Hilltowns of Albany County, NY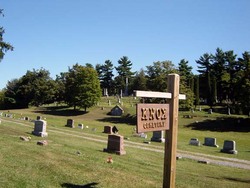 Location
History
The Knox Cemetery is a beautiful and sightly burial place, possessing many advantages. The cemetery company controlling it was organized in 1874, and the cemetery was dedicated by the Rev. Mr. Robinson, August 8, that year. The body of Lieutenant Michael P. Barclay, the same person listed in other history notes, under the name of "Michael Henry Barckley," was the first one buried in Knox cemetery.[1]
Burial records were stolen in 1990, as explained in the following articles:
Transcription of stones
Maria, wife of Jacob Brunk, died September 16, 1849 aged 30 years, 6 months and 20 days
Nancy Dennison, wife of Daniel Gallup, died September 11, 1834 aged 44 Yrs.
Brinkman apparently listed only two of the hundreds of stones in the cemetery.
Biographies of People Buried in Knox Cemetery
Transcriptons of stones elsewhere on the Internet
↑
Altamont Enterprise, 19 Oct. 1934, article on the history of Knox, Margaret E. Burke