Armstrong, Frederick P.
From Helderberg Hilltowns of Albany County, NY
Birth
Frederick Paul Armstrong was born Sunday, March 06, 1921, the son of Marshall Allen Armstrong and Louise Ruth Tegler (9/7/1885 - 7/30/1952), the daughter of Frederick Paul Tegler and Bertha L. Feger. His siblings were:
Robert Allen Armstrong (b. 11/8/1908, Kingston, d. 11/19/1983, Schenectady, m. 9/17/1955 Leda Smith of Schenectady)
Evelyn Bertha Armstrong (b. 1/24/1912, Albany - 8/14/1989, m. Donald VG Wiedeman (Weidman) of Ilion, 8/17/1940)
Beatrice Marion Armstrong (5/18/1913 - 8/26/1946)
Jane Augusta Armstrong (8/31/1916 - 2/18/1988, m. Melvin Morgan)
Education
Military
Frederick Armstrong served in World War II: US Army Air Forces.
Occupation
Marriage & Children
Frederick Paul Armstrong married Edith Van Zandt in 1945.
Death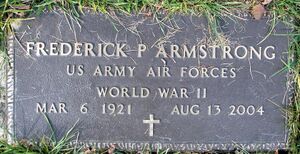 Frederick P. Armstrong died Friday, August 13, 2004.
His grave states:
Frederick P. Armstrong
US Army Air Forces
World War II
Mar 6 1921 - Aug 13 2004
Knox Cemetery
Obituary
Additional Media
Frederick P. Armstrong: Social Security Death Index (SSDI) Death Record
Name: Frederick P. Armstrong
State of Issue: New York
Date of Birth: Sunday March 06, 1921
Date of Death: Friday August 13, 2004
Est. Age at Death: 83 years, 5 months, 7 days
Confirmation: Verified
Last known residence:
City: Naples
County: Ontario
State: New York
ZIP Code: 14512
Latitude: 42.6397
Longitude: -77.3884

Sources
---