Lendrum, Ina Weidman
From Helderberg Hilltowns of Albany County, NY
Birth
Ina Weidman Lendrum was born May 20, 1884[1][2], in near Township, Knox, Albany County, NY. She was the daughter of William E. Lendrum (7 DEC 1842 - 1912)[1] and Blanche Weidman (OCT 1859 - 28 NOV 1926) [1] . Her brthers and sisters were:
Marriage & Children
Ina Weidman Lendrum married Charles Edgar Beebe on October 29, 1913, at her home on the old Lendrum homestead in the town of Berne. The ceremony was performed by the Rev. M. Traver, pastor of St. Paul's Lutheran Church, in Berne. Their attendants were Mrs. Beebe's brother-in-law and sister, Mr. and Mrs. Charles Lainhart of Altamont.
They had one daughter, Blanche R. Beebe
Charles E. Beebe and his wife, Ina, lived at 66 Beebe Road, Knox in what was Lot 65-K from Oct 3, 1914 until their deaths. They purchased their home and 120 acres from M. May Pangburn, the daughter of D. Emory Pangburn
Death
Ina Beebe died April 1, 1978, and was buried in Knox Cemetery.
Obituary
Ina Beebe
Died, April 1, at Eden Park Nursing Home, Ina Lendrum Beebe. Born May 20, 1884, daughter of the late Mr. and Mrs. William Lendrum. Survived by husband Charles, and a daughter, Blanche Roycroft of Washingtonville. Also two sisters, Christina Miller of Berne and Margaret Scrafford of West Coxsackie. Sister of the late Daniel and Eugene Lendrum and Susan Lainhart. Also survived by several nieces and nephews. Funeral service was held Tuesday, Apr. 4, from the First Christian church of Quaker Street. Arrangements were by Fredendall Funeral Home and interment was at Knox cemetery.
Altamont Enterprise April 7, 1978
Additional Media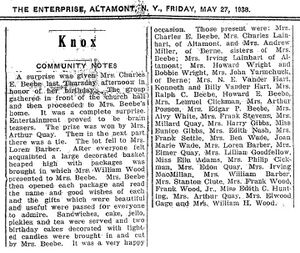 Knox – Community Notes
A surprise was given Mrs. Charles E. Beebe last Thursday afternoon in honor of her birthday. The group gathered in front of the church hall and then proceeded to Mrs. Beebe's home. It was a complete surprise. Entertainment proved to be brain teasers. The prize was won by Mrs. Arthur Quay. Then in the next part there was a tie. The lot fell to Mrs. Loren Barber. After everyone felt acquainted a large decorated basket, heaped high with packages was brought in which .Mrs. William Wood presented to Mrs. Beebe. Mrs. Beebe then opened each package and read the name and -good wishes of each and the gifts which were beautiful and useful were passed for everyone to admire. Sandwiches, cake, jello, pickles, and tea were served and two birthday cakes decorated with lighted candles were brought in and cut by Mrs. Beebe. It was a very happy occasion. Those present were: Mrs. Charles E. Beebe, Mrs. Charles Lainhart, of Altamont, and Mrs. Andrew Miller, of Berne, sisters of Mrs. Beebe; Mrs. Irving Lainhart of Altamont; Mrs. Howard Wright and Bobbie Wright, Mrs. John Yarmchuck of Berne; Mrs. N. E. Vander Hart, Kenneth and Billy Vander Hart, Mrs. Ralph C. Beebe, Howard E. Beebe, Mrs. Lemuel Clickman, Mrs. Arthur Posson, Mrs. Edgar P. Beebe, Mrs. Alvy White, Mrs. Frank Stevens, Mrs. Millard Quay, Mrs. Harry Gibbs, Miss Eunice Gibbs, Mrs. Edith Nash, Mrs. Frank Settle, Mrs. Ben Wade, Joan Marie Wade, Mrs. Loren Barber, Mrs. Elmer Quay, Mrs. Lillian; Goodfellow Miss Ella Adams, Mrs. Philip Cickman, Mrs. Edon Quay, Mrs. Irving MacMillan, Mrs. William Barber, Mrs. Stanton Clute, Mrs. Frank Wood, Frank Wood, Jr., Miss Edith C. Hunting, Mrs. Arthur Quay, Mrs. Elwood Gage and Mrs. William H. Wood.
Altamont Enterprise – May 27, 1938

Sources
---