Beebe, Charles E.
From Helderberg Hilltowns of Albany County, NY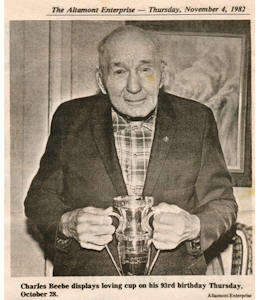 Birth
Charles Edgar Beebe was born October 29, 1889 in Knox, Albany County, New York[1] on a farm off Route 156 where upper Altamont reservoir is now located. He was the son of Edgar Beebe (1864 - November 18, 1952) and Maria Rita Williamson (December 22, 1867 - February 13, 1945). His brother was:
Ralph Beebe (September 5, 1901 - October 15, 1982[2])
Education
My schooling took place in the one-room schoolhouse where Frederick Wagoner now lives, above the George Walk farm atop Altamont hill. My father, a trustee of Knox School District 4, built the present edifice after the former schoolhouse burned down. Cost: $500.
Miss Schoonmaker was my first teacher. One of my duties was school janitor. Math has always been a favorite study, but they all were. Later on, one of the students brought an arithmetic problem to another teacher, but she couldn't solve it. She never liked me after I had worked the answer.
Back then one teacher taught all grades, all subjects – different from today's educational systems. But we really did learn a lot.Knox Native, 93, Recalls Old Days. Altamont Enterprise. November 4, 1984</ref>
Marriage and Children
Charles Edgar Beebe married Ina Weidman Lendrum(May 20, 1884[3] - April 1, 1978) on October 29, 1913 in St. Paul's Lutheran Church, Berne. They had one daughter:
140 Guests Fete Knox Couple on Golden Wedding

Knox Reformed church was the scene of a 50th wedding anniversary party Tuesday night, Oct. 29. The event was in honor of Mr. and Mrs. Charles E. Beebe of Knox.
Mr. and Mrs. Beebe were married Oct. 29, 1913 at the home of the bride, Mrs. William Lendrum, on the old Lendrum homestead in the town of Berne. The ceremony was performed by the Rev. Mr. Traver, pastor of the St. Mark's Lutheran church, Berne. Their attendants were Mrs. Beebe's bother-in-law and sister, Mr. and Mrs. Charles Lainhart of Altamont.
Mr. and Mrs. Beebe were feted by 140 guests from Knox, Berne, Altamont, Gallupville and Schoharie. Out-of-town guests were: Mr. and Mrs. Chester Williamson of Laconia, N. Y., Mrs. Ruth Eldridge of Rensselaerville; Mr. and Mrs. Ralph Beebe of Selkirk, Rev. and Mrs. William Boehne of Windsor, Vt.
The evening program was under the direction of Mr. and Mrs. Beebe's daughter, Mrs. Blanch Roycroft, a teacher at Washingtonville, N. Y. Musical selections rendered included a solo by Mark Hell, "His Eye Is on the Sparrow"; duet, "Ivory Palaces," by Mrs. Elizabeth Wood and Mrs. Blanche Roycroft; solo, "Near to the Heart of God," Mrs. Roycroft; duet, "Goodness and Mercy," Rev. and Mrs. William Boehne. Rev. Donald Hull, pastor of the Knox church, accompanied at the piano.
Mrs. Loren Barber presented a "This Is Your Life" story of the events in both celebrants' lives. The Knox Reformed Sunday school used this gala event as an occasion to honor Mrs. Beebe for her 37 years of uninterrupted and faithful teaching in the church. A certificate of faithfulness was presented to her. Many of her former Sunday school pupils living in the area were present to honor her. Mrs. Beebe was reminded of the influence her teaching has had in so many lives, and how far away from her home church this influence is felt today, through her numerous pupils living in many parts of the world.
A poem for the occasion was written by Mrs. Betty LaGrange of Westerlo, a former Sunday school pupil. Master of ceremony was Robert Reed of Altamont. The "treasuries" used for the money gifts were unique in that they symbolized Mr. and Mrs. Beebe's hobbies. A gladioli bouquet contained the gifts and buds and flowers. Mr. Beebe raises 4,000 gladioli for a hobby. A loaf of bread contained the rest of the gift, showing that Mrs. Beebe uses baking as a hobby. The beautifully decorated golden wedding cake was baked by Mrs. Wallace Quay, a former Sunday school pupil of Mrs. Beebe.
Through the many gifts received, Mr. and Mrs. Beebe were wished much happiness in future years. Mr. and Mrs. Beebe have been very active members in the Knox Reformed church during all of their years of residence in the community.
Altamont Enterprise, Friday November 8, 1963
Military Service
According to the 1930 Federal Census, Charles E. Beebe was not a veteran, but he did have to register for the draft in 1918.
That form includes:
Name: Charles Edgar Beebe
Age: 27
Home Address: Berne, R. D. #1, N. Y. [Knox, NY]
Born: Oct. 28 1889
Natural Born citizen
Born in Knox, N. Y., U.S.A
Occupation: Farming
Married
Caucasion
Blue eyes, brown hair
As you can see, some answers are not clear, but his signature is very clearly Charles Edgar Beebe.

Death
Charles Beebe died January 8, 1986 at the Albany County Nursing Home after a long illness.
Charles Beebe Dies At 96
Charles E. Beebe, 96, of Beebe Road (66 Beebe Road, Knox) died Wednesday at the Albany County Nursing Home after a long illness. Mr. Beebe was born in Knox and was a life-long resident of the area. He was a farmer and sold eggs to neighboring communities for 55 years. He lived for 70 years on his Beebe Road farm. Mr. Beebe was a member of the Quaker Street Bible Church, where he was an adult Sunday school and Bible teacher. He was a former member of Knox Reformed Church, where he spent 48 years as a Sunday school superintendent. His wife, Ina W. Beebe (Ina Lendrum), died in 1978. Beebe is survived by a daughter, Blanche Roycroft (Blanche R.Beebe) of Berne. A service was held Saturday at 2 p,m, at the Quaker Street Bible Church; Burial will be in Knox Cemetery. Memorial contributions may be made to the Quaker Street Bible Church. Arrangements were by the Fredendall Funeral Home in Altamont.
Altamont Enterprise, January 16, 1986: Used by permission. Visit http://historicnewspapers.guilpl.org/ to see full page.
Additional Media
Beebe, Charles E. - Recollections - Altamont Enterprise, November 4, 1982
Beebe, Charles E. - Helping the aged Care for Themselves - Altamont Enterprise, May 19, 1983
Property Deeds
Charles E. Beebe purchased Lot 65-K, now 66 Beebe Road, Knox, New York, from M. May Pangburn on October 3, 1914. On August 7, 1981, he added his daughter, Blanche R. Beebe Roycroft to the deed. Blanche sold the house to Steven and Lynn Plue on November 2, 1990.
↑

Charles E. Beebe World War I Draft Registration - www.Ancestry.com

↑

Ralph C. Beebe. Palladium Times. October 16, 1982

↑

Ina Beebe. Altamont Enterprise. April 7, 1978

↑

Blanche Roycroft Gravestone - Knox NY Cemetery
---