Beebe, Charles E. - Helping the aged Care for Themselves
From Helderberg Hilltowns of Albany County, NY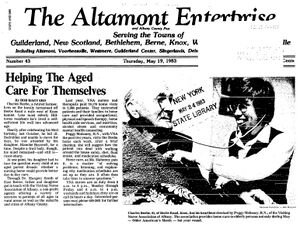 Helping The Aged Care For Themselves
By BOB HAG YARD
Charles Beebe, a retired farmer, lives on the family farmstead off Beebe Road a mile west of Knox hamlet. Like most elderly Hilltowns residents he's lived a self-sufficient life well into advanced age.
Shortly after celebrating his 93rd birthday last October, he fell ill. Bedridden and unable to move for days, he was attended by his daughter, Blanche Roycroft, for a time. Despite a frail body, though, his mind remained—and still is— razor-sharp.
At one point, his daughter had to face the question every child of an aged parent dreads: whether a nursing home could provide better •day-to-day care. Through Dr. Margery Smith of East Berne, father and daughter got in touch with the Visiting Nurse Association of Albany, a non-profit agency offering a variety of services to patients of all ages in rural areas as well as the suburbs and cities of Albany County.
Last year, VNA nurses and therapists paid 79,179 home visits to 2,986 patients. They instructed patients and their families in home care and provided occupational, physical and speech therapy, home health aide services, and nutrition, alcohol abuse and community mental health counseling. Peggy Mahoney, R.N., with VNA the past two years, visits the Beebe home each week. After a brief checkup, she will suggest how the patient can deal with walking around the house safely, diet, fluid intake, and medication schedules.
Home care, as Ms. Mahoney puts it, is a matter "of solving problems, listening, and explaining Why medication schedules are set up as they are. It often does take time to answer questions."
VNA nurses are on duty from 8 a.m. to 8 p.m., Monday through Friday and 8 a.m. to 4 p.m. weekends and holidays; they are on call 24 hours a day. Interested persons may phone 489--2681 for further information.
Altamont Enterprise – May 19, 1983