Hilltown Trails
From Helderberg Hilltowns of Albany County, NY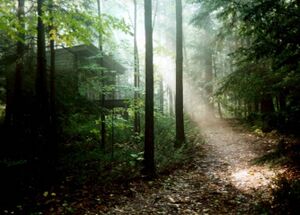 Hilltowns trails
The Helderberg hill towns are fortunate to have a large number of natural areas and outdoor recreation opportunities to give reasons for folks to come visit and enjoy.
Knox
Berne
Rensselaerville
Rensselaerville State Forest - Also known as the Cheese Hill area, this location near the hamlet of Rensselaerville is outstanding for its extensive pine forest glades that are sufficiently open so that one can ski through them with no need for a trail. These glades generally parallel the Department truck trail that traverses the area. There are about 4 miles of Nordic skiing opportunities in this area.
Catskill Creek is a waterway with tributaries; Scrub Creek, Ten Mile Creek, Eight Mile Creek and Willow Brook in Rensselaerville.
The Edmund Niles Huyck Preserve and Biological Research Station's mission is to protect the natural beauty of the Rensselaerville Falls, the watershed of Lake Myosotis and surrounding lands, to conduct long-term research on natural systems as part of a global effort to understand and preserve the Earth's biodiversity, and to increase appreciation of this effort through innovative, field-based educational programs for students, teachers and the community. It has an extensive trail network. Over the next two fall seasons a new six-mile foot trail will be created in the northern 1,200 acres of the Huyck Preserve, Rensselaerville. This trail will connect the current trail system with the State's Long Path in Partridge Run NYS Wildlife Management Area, Berne.
Westerlo
Bear Swamp was designated a Registered National Natural Landmark by the Department of Interior in 1973. Bear Swamp itself dates from 13,000 years ago, with the retreat of the last glacier. The rhododendron at Bear Swamp are a relic stand, the northernmost in New York State.
Helderberg Landscapes
"Helderberg Landscapes" has a series of images taken by various photographers showing the beauty of the Albany hill towns.
Ideas for enhancing hill town trails
Ideas for enhancing hill town trails
Trails outside the hill towns
Albany County Rail Trail] - A project to convert a nine-mile stretch of the old Delaware & Hudson (D&H) Railroad between the Port of Albany and Voorheesville to a public recreational trail.
Mohawk Hudson Land Conservancy
Preserves and protected areas of the the Mohawk Hudson Land Conservancy:
Anticipating that the Albany County Rail Trail] will eventually be extended to Delanson, the Mohawk Hudson Land Conservancy has acquired two preserves on the railroad in the Town of Knox. One of those preserves, Wolf Creek Falls Preserve on Bozenkill Road, is open to the public.
Hiking blogs and sites
Other online resources