Fox Creek Park
From Helderberg Hilltowns of Albany County, NY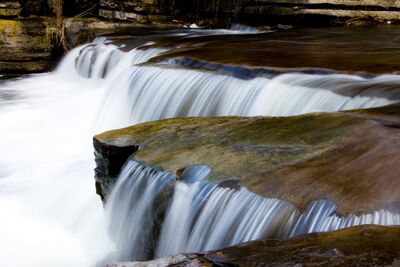 Location
Fox Creek Park is below the Berne Falls in the Berne hamlet. It is reached by a short access road on the west side of Helderberg Trail just south of the bridge across Fox Creek in the hamlet of Berne.
History
Weidman's Mills - About 1752 Jacob Weidman built a log dam at the top of the Berne falls on Fox Creek to create a mill pond to power the first sawmill. By 1781 his son Peter had built a grist mill below the sawmill.
Berne Carding and Fulling Mills - By 1797 Miner Walden Carding and Fulling Mills had been below the older Weidman's Mills. It later produced wooden shoe pegs.
Simmons Axe Factory was started about 1825. This mill had its own dam, a log structure with stone wing walls.
In 1977 one could still see on the Fox Creek Park side of the creek evidence of fastenings for a log dam. Perhaps they are still visible. There are probably a number of foundations of mills and factories along the north side of the creek.
Visitor facilites
There are picnic tables under a small pavilion, basketball hoop, and open meadow to play in.
There is a convenience store and restaurant at the entrance to the park where you can buy something for a picnic in the park.
A short path provides access to the creek and view of the falls.
Proposals
The park should be expanded to include land on the opposite Fox Creek Park where the historic mills and factories stood: Weidman's Mills, Berne Carding and Fulling Mills, Simmons Axe Factory, and others. Their historic sites should be marked. There should be a trail along the north side of the creek connection the mill sites.
A King Post Truss Bridge for pedestrians might connect the two parks. Both sides could be still called Fox Creek Park; it would just be doubled in size to include the historic mill sites on the north bank of the creek.
Perhaps the land on the south side of the Foxenkill between Fox Creek Park and Berne Town Park could be bought to expand the park. The land has not much value to its present absentee owner because of it's inaccessibility from the main Yarmchuk farm which is on the opposite bank. On the other hand, it is very accessible from the hamlet side, especially the school, and would be a valuable addition to Fox Creek Park. If the land can not be bought cheaply, perhaps a right-of-way for a trail could be purchased of would be given to the town. The trail would extend from Fox Creek Park to the Berne Town Park with access to the school.
Photo Gallery