Hamlet of Berne
From Helderberg Hilltowns of Albany County, NY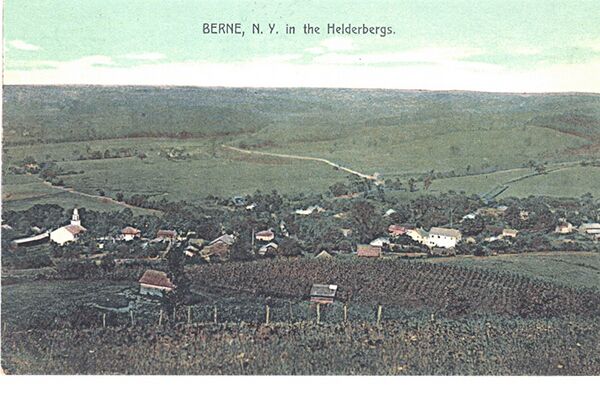 Location
The hamlet of Berne, the largest hamlet in the Town, is located at the intersection of New York State Route 443 and New York State Route 156.
The Berne Town Hall is located here in what was once the Upper Hotel. The same building houses the Berne Public Library. Upstairs is the Berne Museum with "ten rooms of history" operated by the Berne Historical Society. The Post Office is next door.
The Berne-Knox-Westerlo Central School is at the west end of the hamlet.
History
Before the Post Office was located here in the latter half of the 19th century it was called "Bernville." In the 19th and first half of the 20th century it had a number of stores, up to three hotels, several blacksmith shops, a funeral home, cabinet makers, harness makers, etc.; now it almost entirely residential.
1814 Berne fire
Our Heritage has a report on the 1814 Berne fire:
Berne hamlet houses
The hamlet of Berne is fortunate to have a great many historic homes and buildings. Click on Berne hamlet houses for a partial listing. Please add your contribution to the list.
Family History and Genealogy
Churches
Schools
Businesses
Hotels and Taverns in the hamlet of Berne
The hamlet of Berne was once the thriving center of a prosperous farming community. Since travel from distant farms took a long time, there were numerous hotels and inns in the hamlet so the farmers could shop and stay the night before beginning the long journey home the next day.
Mills
Weidman's Sawmill
Weidman's Grist Mill
Blacksmiths
Cemeteries
Post Cards
Photo Gallery
Photos of the hamlet of Berne
House of James Patten(1906) Main St. Berne "Elm Terrace." Destroyed by fire in Feb. 1914 Berne fire.

Berry picking, Ida Sholtes 2nd from the left with the bonnet on, Alta Sholtes wearing the big hat. Photo courtesy of Allan Deitz
Post Card Set - Courtesy Berne Historical Society

BP002FoxxCreekFallsCOLOR.jpg

Fox Creek Falls, Berne, NY

BP004BerneFireHouseCOLOR.jpg

Berne Fire House, Berne, NY

BP005PeterBallCOLOR.jpg

Historic Road Marker for Peter Ball, Berne, NY

BP007MainStreetCOLOR.jpg

Main Street, Berne, NY

BP008ChurchCOLOR.jpg

Church of St. Bernadette, Berne, NY

BP010mainAndJugBerneCOLOR.jpg

Main and Jug Street, Berne, NY