Ball, Hazel Mae
From Helderberg Hilltowns of Albany County, NY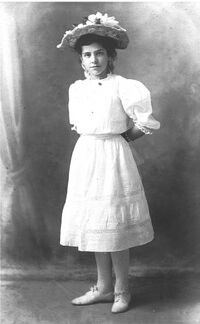 Birth
Hazel Mae Ball was born 19 July 1895 in Knox, the only daughter born to Charles E. Ball and Minnie Bell Onderdonk and was the sister of Clyde L. Ball.
Occupation
Hazel was a farm wife and home maker living along the Switzskill Creek in the Town Of Berne.
Marriage & Children
Hazel Mae Ball married Leroy S. Bailey on November 27, 1917 in the Town Of Berne. LeRoy Bailey lived on the farm next to Hazel's. This union produced one daughter Lois Evadine Bailey who was born on November 28, 1919 and died July 4th, 1972. Lois married Raymond Lendrum. They had a son Charles. She later married Hensdell Stevenson, a General Electric employee. -- Leroy Bailey, husband to Hazel, grew up on his parents' (James Bailey and Gorgiana Delameter) farm on Lot 538, the former Paul Shultes farm that bordered the former Robert Ball farm. It is the current Robert Motschmann farm on Ravine Road. In 1797, Johannis Ecker, Jr. had the first Van Rennselaer lease on this farm.---As a young woman living with her parents, Hazel traved often, and sent many post cards to her brother, Clyde, who had a large card collection. In their later years, Hazel and Roy Bailey moved to the Village of Westerlo, where Roy worked for the Hannay Reels Co.
Death
Hazel Ball Bailey died February 17, 1970, at age 74. She was buried at Woodlawn Cemetery, Berne, Albany County, NY.
Obituary

Hazel M. Bailey
Hazel M. Bailey passed away on Tues, Feb. 17 (1970) at St. Clare's hospital. She was born 74 years ago in the town of Knox, the daughter of the late Mr. and Mrs. Charles E. Ball, and had lived most of her life here in Berne. Sympathy of many friends in the community is extended to her survivors: her daughter, Mrs. Hinsdill (Lois) Stevenson, her grand-son, Charles Lendrum of Schenectady, her great grandson, and her brother, Clyde L. Ball.
Mrs. Bailey had made her home with her daughter in Schenectady since the death of her husband, LeRoy S. Bailey, last Nov. 25, the day before his 75th birthday and their 52 anniversary.
Funeral services were conducted Saturday from St. Paul's Lutheran church in Berne with Rev. William F. Howard officiating. For years Mrs. Bailey had been a faithful member of this church. More recently she was a member of the Westerlo Reformed church where Mr. and Mrs. Bailey had later become members after their retirement from the family farm and moving to their Westerlo home.
She was also a charter member of Uhai Chapter 803, O. E. S. and a life member of the Women's Missionary society of the Lutheran church. Interment in Woodlawn Cemetery, Berne.
Altamont Enterprise — February 27, 1970

Died
BAILEY — Nov. 26, at St Clare's hospital, Schenectady, LeRoy C. Bailey of Westerlo, husband of Hazel M. Ball; father of Mrs. Hinsdill (Lois,) Stevenson of Schenectady; grandfather of Charles Lendrum of Schenectady. Funeral services were held last Saturday from the Westerlo Reformed church.
Altamont Enterprise - December 5, 1969
Additional Media
Leroy Bailey: Social Security Death Index (SSDI) Death Record
Name: Leroy Bailey
State of Issue: New York
Date of Birth: Tuesday November 27, 1894
Date of Death: November 1969
Est. Age at Death: 74 years, 11 months
Last known residence:
City: Westerlo
County: Albany
State: New York
ZIP Code: 12193
Latitude: 42.5128
Longitude: -74.0415

JAMES BAILEY
James Bailey died. sat his home here on May 5 (1938) at about 5:30 p. m. He had been in failing health for several months. Mr. Bailey was born Oct. 3, 1863, the son of the late Mr. and Mrs. Jonathan C. Bailey, one of a family of eight children. Mr. Bailey came to Berne from Rensselaerville about 45 years ago. He was born in Hansonville, N. Y.
Mr. Bailey was strongly attached to his home, and found his greatest happiness there. He was an active member of the Maccabees. Mr. Bailey was married to Georgiana DeLaMater on Christmas of 1887.
Mr. Bailey is survived by his wife, one son, LeRoy Bailey of Berne, one grand daughter, Mrs. Raymond Lendrum, one brother, John Bailey of Ravena, two sisters, Mrs. Anna Vanalystine of Rochester, and Mrs. Alphia Snyder of Florida. The youngest son, Howard, died in infancy.
The funeral service was at the home on Monday afternoon at 2 p. m. and Rev. Russell Greene, pastor of St. Paul's Lutheran church at Berne officiated. Interment was in the family plot at Woodlawn Cemetery.
Altamont Enterprise - May 13, 1938
Sources
---