Onderdonk, Minnie Bell
From Helderberg Hilltowns of Albany County, NY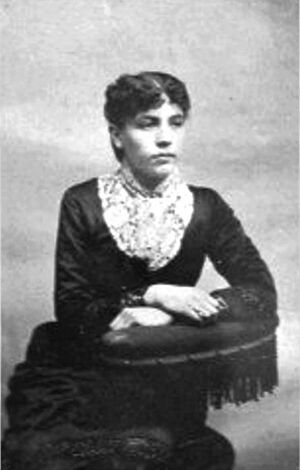 Birth
Minnie Bell Onderdonk was born on 16 Feb 1862 at Saratoga, NY. She was the only child of Charles L. Onderdonk (1836 - 1864) and Magdalen Schoonmaker (1837 - 1904). Magdalen married second William (Joseph William) Ball (1825-1897). Minnie's father, Charles, had received certification to teach public school in Saratoga County on Jan 2, 1857. She appeared on the census of 1880 in the household of her step-father Joseph William Ball and her mother Magdalen (Maggie). Charles L. Onderdonk's mother was Johannah Onderdonk (1806 - 1890)
Education
She was educated. At the age of 16, she began teaching at the Berne one-room school. She was very active at St. Paul's Lutheran Church in Berne where she taught Sunday School. She appears in several photos with church women's groups.
Marriage
Minnie married Charles Eugene Ball, son of Robert Ball and Anna Barbara Deitz, on 16 Mar 1886. Their first farm was in the Town of Knox at the site of the present Altamont reservoir where their children, Clyde L. Ball and Hazel, were born. In 1900, the family bought and moved to the former Robert Ball farm in the Switzkill Valley, Town of Berne, Albany, NY. She and Charles E. Ball appeared on the cenus of 1 Jun 1915 at Switzkill Road, Town of Berne, Albany, NY.
Death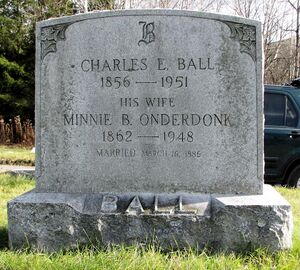 Minnie died on 8 Mar 1948 at Berne, Albany,NY, at age 86. She was buried on 12 Mar 1948 at Woodlawn Cemetery, Berne, Albany, NY.
Obituary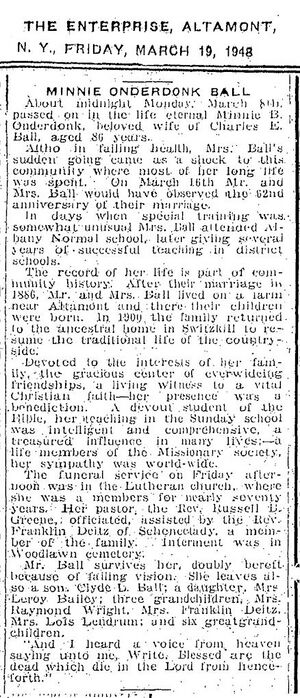 MINNIE ONDERDONK BALL
About midnight Monday 8th, pass on in the life eternal Minnie B. Onderdonk, beloved wife of Charles Ball, aged 86 years.
Altho in failing health, Mrs. Ball's sudden going came as a shock to this community where most of her long life was spent. On March 16th Mr. and Mrs. Ball would have observed the 62nd anniversary of their marriage.
In days when special training was somewhat unusual Mrs. Ball attended Albany Normal school, later giving several years of successful teaching in district schools
The record of her life is part of community history. After their marriage in 1886, Mr. and Mrs. Ball lived on a farm near Altamont and there their children were born. In 1909 the family returned to the ancestral home in Switzkill to resume the traditional life of the country-side.
Devoted to the interests of her family, the gracious center of everwideing friendships, a living witness to a vital Christian faith-her presence was a benediction. A devout student of the Bible, her teaching in the Sunday school was intelligent and comprehensive, a treasured influence in many lives:-a life member of the Missionary society, her sympathy was world-wide.
The funeral service on Friday afternoon was in the Lutheran church, where she was a member for nearly seventy years. Her pastor, the Rev. Russell B. Greene, officiated, assisted by the Rev. Franklin Deitz of Schenectady, a member of the family. Interment was in the Woodlawn Cemetery.
Mr. Bell survives her, doubly bereft because of failing vision. She leaves also a son, Clyde. L. Ball, a daughter, Mrs. Leroy Bailey, three grandchildren, Mrs. Raymond Wright, Mrs. Franklin Deitz, and Mrs. Lois Lendrum; and six great grand children.
And I heard a voice from heaven saying unto me, Write, Blessed are the dead which die in the Lord from hence-forth.
Altamont Enterprise - March 19, 1948
Additional Media
Photos courtesy of Allan Deitz
Home of Charles E. Ball and Minnie Bell Onderdonk Ball located near the present Altamont Resevoir. L-R Charles, Clyde , Hazel(little girl), Minnie and Maggie Onderdonk Ball, Mrs. C. Griffin. Spark is the dog in front. Photo taken in 1898. Photo courtesy of Allan Deitz