Ball, Charles E.
From Helderberg Hilltowns of Albany County, NY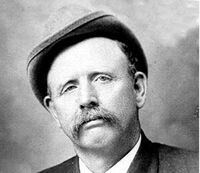 Birth
Charles Eugene Ball was born on Jan 11, 1856 at Maple Ridge Farm, Switzkill Road, Town of Berne, Albany, NY. His parents were Robert Ball (Jan 9, 1809-Sep 11, 1893) and Anna Barbara Dietz (Oct 15, 1815). He was one of sixteen children, thirteen that lived to adulthood. Three older brothers were soldiers in the Civil War. Brother Lucius Ball died at the battle of Cold Harbor.[1]
Education
He was educated.
Occupation
He was a farmer. His first farm was on the site of the Altamont Reservoir, Town of Knox. He bought his father's Robert Ball Switzkill Road farm in 1899, and moved there in 1900. The family moved in one day, with son Clyde and friend driving sheep, cattle,and horses through the village of Berne to the Switzkill Valley farm. From the 1916 diary of son Clyde L. Ball we learn that Charles had 57 sheep in Jan that year. He sold 47 the year before at $10. a head. Charles, with helpers, put 82 loads of loose hay in the Dutch barn that year. He had large crops of wheat, corn and beans. In Dec. he butchered pigs for his and the extended family. He once kept oxen. He had a scar on his left thigh from being gored and thrown over fence near the house.
Marriage & Children
Charles Eugene Ball married Minnie Bell Onderdonk, daughter of Charles L. Onderdonk and Magdalone Schoonmaker, on Mar 16, 1886. She was a teacher. They had the following two children:
Clyde Lawrence Ball -b. May 14, 1888 at Town of Knox, Albany, NY. He married Alta Mae Sholtes on Jun 1, 1911 at the Sholtes house on Rock Road, Knox,Albany,NY. He died on Mar 10, 1991 at Berne, Albany, NY. He was buried at Woodlawn Cemetery, Berne, Albany, NY.
Hazel Mae Ball -b. Jul 19, 1895 at Town of Knox, Albany, NY. She married Leroy S. Bailey on Nov 27, 1917 at Town of Berne, Albany, NY. She died Feb 17, 1970, at age 74. She was buried at Woodlawn Cemetery, Berne, Albany, NY.
Charles and wife Minnie would go to Whitney's and Meyer's stores in Albany to shop, stay overnight, and come home next day. Minnie raised turkeys for spending money. Charles and Minnie took in vacation boarders in summer months from NYC. They held many family reunions at their farm. Several of Charles' brothers moved to the West, but often returned to visit the farm. They enjoyed traveling.
Death
Charles Eugene Ball died on Sep 21, 1951 at Switzkill Road, Berne, Albany, NY. He was buried on Sep Sep 24, 1951 at Woodlawn Cemetery, Berne, Albany, NY.
Obituary
CHARLES EUGENE BALL
Charles E. Ball passed away Friday morning, Sept; 21st, at the home of his son, Clyde L. Ball, with whom he had been living the past few months.
Mr. Ball was in his 96th year and was the oldest resident in the Town of Berne. A man of unusual strength and perseverance, he had maintained his own home until ten months ago, and continued to- be about his room until the last.
He was the son of the late Robert and Anna Barbara Deitz Ball and was the last surviving member of the sixteen children born to this union. It was his privilege to live the most of his entire life on the farm, on which he was born and died; and to see his son and granddaughter establish homes on the same farm. He was a good neighbor and capable worker and even after his retirement from active farming, continued his interest in the place and was justly proud of the garden he planted and tended each year to the last.
In 1886 Mr. Ball married Minnie B. Onderdonk whom he survived three years. Neighbors, friends and relatives from near and far have enjoyed the hospitality of their home.
He was a loyal member of Berne Lutheran church and served on the church council 15 years. He considered it a privilege to attend divine service although almost totally blind. His example of a Christian gentleman as he lived it each day will be remembered by his relatives and friends. His sense of humor, and generous disposition endeared him to a wide circle of acquaintances among whom he will be greatly missed.
Mr. Ball is survived by a son, Clyde L. Ball; a daughter, Mrs. LeRoy Bailey, of Berne; three granddaughters, Mrs. Raymond Wright of Berne, and Mrs. Franklin Deitz and Mrs. Hinsdill Stevenson of Schenectady, and seven great-grandchildren. There are also several nieces and nephews, and one brother-in-law.
Funeral services were held from the Berne Lutheran church Monday afternoon. His pastor, the Rev Russell B. Greene, and his grand-son-in-law, the Rev. Franklin S. Deitz of Schenectady, officiated. Interment was in Woodlawn Cemetery at Berne. —E.-S. W.
Altamont Enterprise - Sptember 28, 1951
Additional Media
Diary Excerpts
The Blizzard of 1888
Hear ye! Hear ye! Listen well and we trust you will not hear the wind blow the way it did this week in 1888. Clyde Ball has the diary written by his father that fateful March; Mr. and Mrs. Charles Ball were living at the time on a farm at the site of the present Altamont Reservoir.
A few quotes from the diary;

Mar. 9 Fri. Minnie and I took ox home to Barber's and went to Berne, Home at 6. Pleasant and whorme (warm).
Mar. 10 Sat. Sawed and split wood in the forenoon. Went to Altamont in the afternoon. Whorme, thawed fast. Got a rocking chair for Minnie $1.50.
Mar. 11 Sun. Snowed and blowed part of the day. Home all day.
Mar. 12 Mon. Snowed and blowed all day. It is a terrible bad day, drifting very fast. Done nothing but the chores.
Mar. 13 Tues. Still blowing and drifting. The worst banks I ever saw, window is ½ drifted under. Banks in front of the house about 12 feet deep and still drifting. Could hardly get to the barn.
Mar. 14 Wed. Quite whorme. Opened roads most of the day, terrible banks, no travel.
Mar. 15 Thurs. Blowed some. But not badly. No travel on the roads.
Mar. 16 Fri. Went to Altamont. I was the second slay (sleigh) thru. Jud Baker got to Altamont for the first time since Monday. Roads terrible bad. I tapped boots at night. Went to Henry Witter's.
Mar. 17 Sat. Sat in house all day. Windy and quite cold. Party here at night.
Photo Album
Sources
↑ When I was eleven years old, and Charles E. Ball, (my great grandfather) was ninety-five, he told me he was nine years old when Abraham Lincoln was shot, and he remembered hearing the news.[Allan Deitz]
---