Sholtes, Alta Mae
From Helderberg Hilltowns of Albany County, NY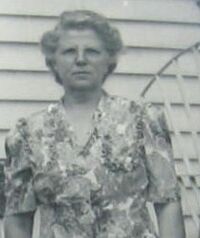 Birth
Alta Mae Sholtes was born on May 12, 1891 at what is now the Whipple farm on the Berne-Knox Road, Town of Knox, Albany County, NY. Her parents were Stanton Sholtes and Ida Gibbs. She was the sixth of eight children. When she was two years old, her family moved over to the Sholtes homestead on Rock Road where she grew up.
Education
Alta was educated. She attended the one room school across the road from the farm. On many occasions she would ride a horse from the family Dutch Barn bareback to the school, slide off, and send the horse home alone to his stable. In her teenage years, she spent one year at a finishing school in NYC where her favorite Aunt Flavia Sholtes was studying art.
Occupation
She was a homemaker, a great cook, taught Sunday School at the Berne Reformed Church, and was a receptionist for her husband Clyde's insurance business as she worked in her kitchen. She enjoyed visiting, traveling,knitting and camping. Her brothers, Jesse and Friend, taught her to fish on the Foxenkill at the Sholtes farm. She enjoyed camping at Maine beaches and the Adirondack Mts. with family. With Clyde, Vertie and Harry Gibbs, or Chester and Anna B. Miller, they travelled to all but 2 states.
Marriage & Children
Alta Mae married Clyde L. Ball, son of Charles Eugene Ball and Minnie Bell Onderdonk, on June 1, 1911 at the Sholtes farmhouse on Rock Road, Town of Knox, Albany County, NY. They visited NYC before returning to Berne Village where they rented rooms first the Haverly house and then the Wood house. Their two children were born in Berne before the family moved over to the Ball farm on Switzkill Road in 1920. Their two children were:
Mildred Alberta Ball was born on January 6, 1913 at Berne Village, Albany County, NY. She married Raymond Harvey Wright, son of Burton Wright and Emma E. Pitcher, on August 22, 1934 at Town of Berne, Albany County, NY. (She preferred to be known as Alberta). She was a Math Teacher at Averill Park, Berne-Knox, and Schoharie Central Schools. They had three daughters; Ruth Elaine, who married Larry DeWitt of Michigan, had 3 children and became a teacher; Jean, who became a Kindergarden Teacher and taught for many years at Schoharie; and Janet (twin sister of Jean), who became an Executive Secretary to the Director of the Albany College School of Nursing and married Joseph Salzer. They had a large family.
Gertrude Marion Ball was born on October 13, 1916 at Berne Village, Albany County, NY. She married Franklin S. Deitz, son of Frederick N. Deitz and Theodora N. Haverly, on October, 20, 1938. They had three children; Allan Franklin, who married Betty Hesselink at Waupun, Wis. and worked for New York State Depts. of Labor and Motor Vehicles. They have two daughters; Arlene Gertrude Deitz, who married Rev. James Clark at Schenectady, NY. She became a teacher. They have a son; and Gerald Roger Deitz, who worked for many years for the Freihofer Baking Company at Albany, NY.
Death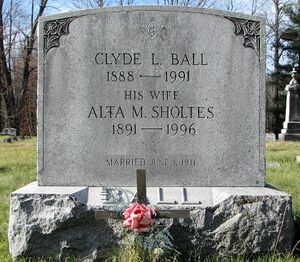 Alta Sholtes Ball died on September 25,1996 at Berne, Albany County, NY. at age 105. She was buried after September 25, 1996 at Woodlawn Cemetery, Berne, Albany County, NY.
Obituary
ALTA S. BALL: Newspaper Obituary and Death Notice
Times Union, The (Albany, NY) - Friday, September 27, 1996
Deceased Name: ALTA S. BALL

BERNE -- Alta Sholtes Ball, Age 105, of Switzkill Rd., died Wednesday, September 25, 1996 at her home. Mrs. Ball was born in Knox and was a lifelong area resident. She was educated in the local schools and also spent one year of schooling in New York City. She was a homemaker. She was a member of the First Reformed Church of Berne and was active as a Sunday School teacher, choir member and was a member of the Church's Christian Endeavor Society and Ladies Guild for over 90 years. She was the last living charter member of Uhai Chapter #803 Order of the Eastern Star. She was a charter member of the Berne Historical Society and a member of the Hilltown Senior Citizens. She was predeceased by her husband, Clyde L. Ball in 1991. She is survived by two daughters, Alberta B. Wright and Gertrude B. Deitz, both of Berne; five grandchildren, Jean M. Wright of West Berne, Janet W. Salzer of Westerlo, Allan F. Deitz of Guilderland, Arlene D. Clark of Essex Junction, Vermont and Gerald R. Deitz of Clifton Park, NY; seven great grandchildren, Susan Pyne, Rochester Hills, MI, David S. DeWitt of Oxford, OH, Jonathan C. DeWitt of Middletown, OH, Jenifer D. Battaglioli of New York, NY, Karen B. Deitz of Guilderland, Stacey L. Wright of Berne and David L. Clark of Berne; eight great great grandchildren, Ben, Katie and John Pyne, Alyssa and Laura DeWitt, Rachel and Nicholas DeWitt and Gregory Salzer; also survived by six step-great grandchildren. She was predeceased by a daughter, Ruth Elaine Wright DeWitt and one great grandson, Timothy S. Salzer. A funeral service will be held Sunday at 2 pm at the First Reformed Church of Berne, Helderberg Trail. Relatives and friends may call on Saturday from 4-7 pm at the Fredendall Funeral Home, 199 Main St., Altamont. Burial will be in Woodlawn Cemetery, Berne. Those who wish may make contributions to First Reformed Church of Berne, Helderberg Trail, Berne, NY 12023.
Edition: THREE STAR
Page: B10
Copyright, 1996, (c) Times Union. All Rights Reserved.

Additional Media
Sources
---