Deitz, Frederick N.
From Helderberg Hilltowns of Albany County, NY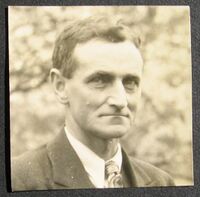 Birth
Frederick N. Deitz was born on November 3, 1887 in Pleasant Valley, Town of Knox, Albany County, N.Y. His parents were Ellery Willes Deitz (Feb 14, 1858- May 17, 1914), a stone mason, and Carrie E. Warner (Nov 22, 1858- Oct 19,1939). He had a sister, Nellie B. Deitz (October 26, 1883- March 18, 1929).
Marriage and Children
He married Theodora N. Haverly, daughter of William J. Haverly and Carrie E. Naughright of West Berne, on June 25, 1908 at Gallupville, Schoharie, N.Y. Fred and Dora Deitz had the following children:
Margaret E. Deitz born 1908, died 1908.
Harold F. Deitz born February 18, 1910, married Edith Mae Vining , died June 24, 1985.
Walter E. Deitz born May 19, 1916, married Anna Laura Shultes, died May 18, 1970.
Fred Deitz moved with his parents and sister to a house on Jug Street, Berne, N.Y. in 1899.
Occupation
He first taught in the local schools, and in 1911, took over the R.F.D. mail route on which he served the Berne community for 30 plus years. When the Berne Central School was established in 1932, he became the first clerk of the Board of Education. Some years later he was treasurer of the school until his death in 1950. His wife Dora took over that position and held it for several years more. Fred also served as supervisor of the Town of Berne in 1946. He also sold cemetery markers from his home. His mail route took him up over West Mountain and he often obtained the assistance of Clyde L. Ball when deep snow drifts hindered the horse and sleigh.[1] Fred also took great pride in his large vegetable gardens. He was a member of the Berne Reformed Church.
Death
He died on October 23, 1950 at age 62 at Ellis Hospital, Schenectady, N.Y. He was buried at Woodlawn Cemetery, Town of Berne, Albany, N.Y.
Obituary
Census Records
1910 United States Federal Census about Fred W Deitz[2]


Name: Fred W Deitz
Age in 1910: 22
Birth Year: abt 1888
[1888]
Birthplace: New York
Home in 1910: Berne, Albany, New York
Race: White
Gender: Male
Relation to Head of House: Self (Head)
[Head]
Marital Status: Married
Spouse's Name: Theodore Deitz
Father's Birthplace: New York
Mother's Birthplace: New York
Neighbors: View others on page
Household Members:
Name Age
Fred W Deitz 22
Theodore Deitz 21
Harold Deitz 0
[2/12]


1920 United States Federal Census about Fred N Deity[2]


Name: Fred N Deity
[Fred N Deitz]
[Fred N. Deity]
Age: 32
Birth Year: abt 1888
Birthplace: New York
Home in 1920: Berne, Albany, New York
Race: White
Gender: Male
Relation to Head of House: Head
Marital Status: Married
Spouse's Name: Theodore N Deity
Father's Birthplace: New York
Mother's name: Carrie E Deity
Mother's Birthplace: New York
Home owned: Own
Able to Read: Yes
Able to Write: Yes
Neighbors: View others on page
Household Members:
Name Age
Fred N Deity 32
Theodore N Deity 30
Harrold F Deity 9
Franklin S Deity 6
Walter E Deity 3
[3 7/12]
Nellie B Deity 36
Carrie E Deity 61


New York, State Census, 1925 about Fred N Deitz[2]


Name: Fred N Deitz
Birth Date: abt 1886
Birth Place: United States
Age: 39
Gender: Male
Residence Place: Berne, Albany
Relationship: Head
Color or Race: White
Assembly District: 03
Line Number: 26
Page Number: 3
Household Members:
Name Age
Fred N Deitz 39
Theodora Deitz 36
Harold F Deitz 15
Franchie S Deitz 12
Waller E Deitz 09
Carrie C Deitz 66
Wellie B Wright 41


1930 United States Federal Census about Fred Deitz[2]


Name: Fred Deitz
Gender: Male
Birth Year: abt 1888
Birthplace: New York
Race: White
Home in 1930: Berne, Albany, New York
View Map
Marital Status: Married
Relation to Head of House: Head
Spouse's Name: Theodora Deitz
Father's Birthplace: New York
Mother's name: Carrie E Deitz
Mother's Birthplace: New York
Neighbors: View others on page
Household Members:
Name Age
Fred Deitz 42
Theodora Deitz 41
Harold F Deitz 20
Franklin Deitz 16
Walter Deitz 13
Carrie E Deitz 71
Lucis Warner 74

Additional Media
Sources