Berne-Knox-Westerlo
From Helderberg Hilltowns of Albany County, NY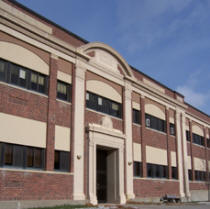 In 1932, the centralized Berne-Knox Central School district was established and a building was built at the west end of the hamlet of Berne at a cost of $135,000. William Haverly, Fred Deitz, Clyde Ball, and Milton Hart were instrumental in bringing about the centralization. In 1931-32, the district purchased three buses to transport the children. One bus went to Schoharie, one to Altamont, and one took children to the Berne Public School where Clyde Ball taught a class of 45 pupils. In 1932, Berne-Knox was a Junior High School, and in 1933 it expanded to include grades 1 through 12. The first members of the Board of Education were: Homer Gallup, Milton Hart, Arthur Quay, Verni Shultes, and Clifford Vincent, Sr. The total value of the school property was set at $156,788, and the 1,072 volumes in the school library were valued at $800. Textbooks were valued at $1,623, and the average teacher's salary was $1,200 per year. Mr. McKeen was the first principal.
All school districts except 4, 10, and 14 were included in this centralized system. In 1937, fifteen pupils graduated from the high school and 20 graduated from the eighth grade.
A new wing was added to the building in 1948, and in the fall of 1949, the first kindergarten class was started. At that time there were 24 faculty members. There were 154 children enrolled in grades 9-12, and 509 children in K-8. Twenty-one pupils graduated that year.
In 1955, a new elementary wing was added at a cost of $400,000. At that time, the staff had grown to forty and the K-12 enrollment was 822. To construct the school the historic home of Anti-rent Wars participant Peter Ball was torn down to make room the the adjoining parking lot.
Principals who have served the district, in addition to Mr. McKeen, are: L. E. Thompson, Walter E. Schoenbern, and Malcom Hewitt. Mr. H. Brezenski is supervising principal at the present time [1972]: Mr. R. Adams, principal: and Mr. R. Conners, elementary principal.
A new Junior-Senior High School was constructed and used for the first time in 1967. It was built on the site of the former parsonage of St. Paul's Lutheran Church.
In October, 1971, the Berne-Knox enrollment was 1,340. In 1972 there were seventy-four staff members.
The name of the school district was change to Berne-Knox-Westerlo Central School District, effective 04/19/1973.
Clyde Ball teacher record book for 1933, Photo courtesy of Allan Deitz

Clyde Ball teacher record book for 1934, Photo courtesy of Allan Deitz
External Links