Stevens, Leola
From Helderberg Hilltowns of Albany County, NY
Birth
Leola Stevens in the Town of Knox, Albany, NY, the daughter of Clarence E. Stevens and Elizabeth Ellen Quay. Her siblings were:[1]
Education
Occupation
Marriage & Children
Leola Stevens married first Alfred G. Batcher, the son of Theodore Batcher and Margaret Livingston. Their children were:
Floyd Batcher
Charles Batcher
Howard Batcher
Grace Vincent - Married Leland Vincent - see obituary below.
Leola Stevens married later Herman Smith. Their child was:
Leola Stevens Batcher married next Owen Onderdonk.
Death
Leola Stevens Batcher Onderdonk died November 21, 1964.
Obituary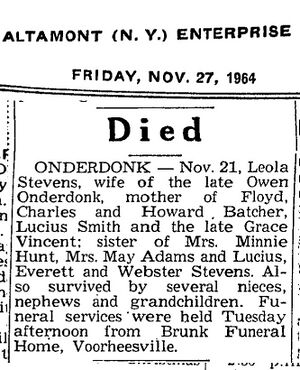 ONDERDONK — Nov. 21, Leola Stevens, wife of the late Owen Onderdonk, mother of Floyd, Charles and Howard Batcher, Lucius Smith and the late Grace Vincent: sister of Mrs. Minnie Hunt, Mrs. May Adams and Lucius, Everett and Webster Stevens. Also survived by several nieces, nephews and grandchildren. Funeral services were held Tuesday afternoon from Brunk Funeral Home, Voorheesville.
Additional Media
Died
BATCHER — Jan. 9, (1971) Floyd A. Batcher, R. D. 2, Altamont, husband of Cora Oliver; brother of Charles Batcher, Rotterdam Jct., and Howard Batcher of Albany; half brother of Lucius Smith of Albany. Private funeral services were held from the Fredendall Funeral Home, Altamont, Tuesday afternoon. Interment was at Knox cemetery.
Died EVA MAY BATCHER
The death oi Eva May Batcher occurred suddenly at the family residence near Voorheesville Tuesday, November 21. Private funeral services were conducted this afternoon (Friday) from the Brunk Funeral Home at 1 p.m.
Eva May was the only child of Mr. and Mrs. Floyd Batcher. Their many friend sympathize with them in their bereavement.
DIED
SMITH - On Tuesday, Jan. 10. 1950, at Voorheesville, R. D., Herman Smith, husband of Leola Stevens Smith; father of Lucius H. Smith; stepfather of Mrs. Grace Vincent and Floyd, Charles, and Howard Batcher; brother of Mrs. Nettie Ondedonk, Mrs. Zelma McLennan, and William, Theodore and Floyd Smith. Funeral services were Friday afternoon, from the Floyd J. Brunk Funeral Home, Voorheesville. husband of Leola Stevens Smith
Leland Vincent
Leland Vincent, 64, died suddenly of a heart attack on Sunday, Dec. 22. He was born in Reidsville Jan. 24, 1893, son of the late Mr. and Mrs. Charles Vincent. Mr. Vincent was a former resident of Voorheesville, but of late had lived in Albany and vicinity. He was a mason by trade, and brother of the late Herman, Ervin and Kenneth Vincent. Survivors are his wife, Grace Batcher Vincent; two children, Donald and Margaret Vincent; three brothers, Roy and Charles Vincent, Schenectady, and Harold Vincent of Tuscon, Ariz; a sister, Benita Livingston, Schenectady, also several nieces and nephews. Funeral services were conducted from the James Keeher Funeral Home, Albany, Thursday afternoon, Dec. 26. James Vincent, student minister of the Stanton Reformed church, Stanton, N. J., officiated. Interment was in Prospect Hill cemetery.
Mrs. Grace B. Vincent
Funeral services were conducted Saturday for Mrs. Grace Batcher Vincent, 59, of 10 Kent Pl., Westmere, a nurse at Westmere Convalescent Home. She died April 22 in Albany hospital. She was the widow of Leland Vincent.
Surviving are a daughter, Miss Margaret Vincent; a son, Donald Vincent; three brothers, Howard, Charles and Floyd Batcher, and a stepbrother, Lucius Smith. Services were conducted at 2 p. m. at the James Keeher Funeral Home, Albany, with the Rev. Walter Taylor of Voorheesville officiating. Burial was in Prospect Hill cemetery.
Sources
---