Batcher, Grace
From Helderberg Hilltowns of Albany County, NY
Birth
Grace Batcher born 05/22/1872, daughter of Theodore Batcher and Margaret Livingston.
Education
Marriage and Children
Grace married Frank Stevens on 12/22/1890. Grace Batcher & Frank Stevens had 9 children:
Luella Stevens Humpf (Joseph)
Florence Stevens Lee Gaige
Miner Stevens (Beatrice)
Edna Stevens Jones (Charles)
Blanche Stevens Rendo (Joseph Andrew)
Hazel Stevens Blaisdall (Willard)
Elizabeth Stevens Brewer (Philip)
Albert Raymond Stevens (Margarite Saddlemire)
AnnaMae Stevens Kloss (Frank)
Death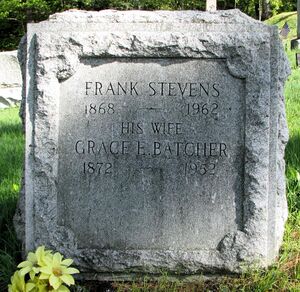 Grace died 07/14/1952 and is buried in the Knox Cemetery.
Obituary
Additional Media
Sources
---