Stevens, Ida M.
From Helderberg Hilltowns of Albany County, NY
Birth
Ida M. Stevens was born ABT 1871 in the Town of Knox, Albany, NY, the daughter of Clarence E. Stevens and Elizabeth Ellen Quay. Her siblings were:[1]
Education
Occupation
Marriage & Children
Ida M. Stevens married Edward Wagoner. Her son was:
Death
Ida M. Stevens died 30 JUN 1957[1].
Obituary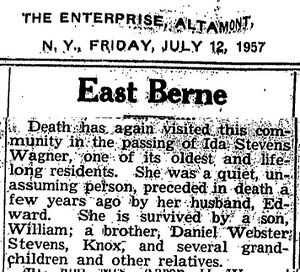 East Berne
Death has again visited this community in the passing of Ida Stevens Wagner (Wagoner), one of its oldest and life long residents. She was a quiet, unassuming person, preceded in death a few years ago by her husband, Edward. She is survived by a son, William; a brother, Daniel Webster Stevens, Knox; and several grandchildren and other relatives.
Altamont Enterprise — Friday, July 12, 1957
Additional Media
Sources
---