Bouton, Edgar Harry
From Helderberg Hilltowns of Albany County, NY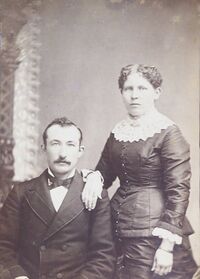 Birth
Edgar was born on February 24, 1858, in Rensselaerville to Joseph C. Bouton and Jennette Smith. According to his granddaughter, Doris Boughton Palmer, he always went by the nickname "Harry".
Occupation
Edgar was a farmer and contractor.
Marriage & Children
On February 24, 1858, Edgar married Rossetta Tallman[1], a daughter of Jonathan Tallman and Caroline Bouton. Through the Bouton family, he was also a cousin (twice removed) to Caroline Bouton, Rossetta's mother. Edgar and Rossetta had two children, Lura May Bouton and Manley J. Boughton. Lura May died at two months of age in 1885.
Death
Edgar died April 10, 1944, at 86 years of age in Rensselaerville. According to cemetery records, he died of "cerebral thrombrarsis."[2] He is buried with his wife and son in Rensselaerville Cemetery.
Additional Media
Photograph ~ Media:Rossetta_Edgar_Bouton.jpg
Sources