Boughton, Manley J.
From Helderberg Hilltowns of Albany County, NY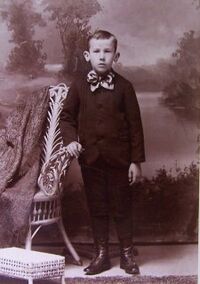 Birth
Manley J. Boughton was born June 3, 1886, in Norton Hill, Greene County, New York, the only son of Edgar Harry Bouton and Rossetta Tallman.
Occupation
Manley became a teacher, and taught for a short time, in 1896, at Rensselaerville District #12, and in 1916 in Preston Hollow at the Miller District School. It was when he received his teaching certificate with his surname erroneously spelled "Boughton", instead of "Bouton", that he began using the alternate spelling in the family name.[1] Manley taught only for a short time and later ran the Rensselaerville Creamery. Cream made there was shipped to Albany and used to make butter.
Marriage & Children
On July 2, 1919, Manley married Mabel L. Cole, a daughter of Lewis L. Cole and Mary Emma Day, at the Cole home on Crystal Lake, Albany County, New York. Following their marriage they initially lived with Manley's parents in Rensselaerville and later moved to their own house nearby. Manley had three children with Mabel; Doris Emma Boughton, Junita Rose Boughton and Harley Roland Boughton.
Death
Manley died on May 26, 1954, in at St. Peter's Hospital in Albany New York at 67 years of age. He is buried with Mabel in Rensselaerville Cemetery right next to his parents. According to cemetery records his cause of death was "coronary insufficiency".
Additional Media
Sources
↑

"Interview with Doris Boughton Palmer" Interviewer: Russ Tallman