Preston Hollow
From Helderberg Hilltowns of Albany County, NY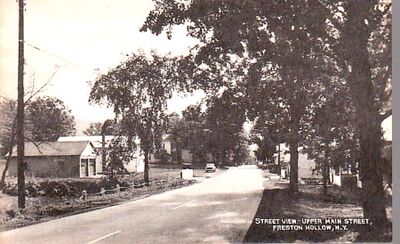 Location
Preston Hollow is a hamlet of Rensselaerville in the southwestern part of town along the Catskill Creek in the valley of the Catskills.
History
Preston Hollow took its name from Dr. Samuel Preston who was the first settler emigrating from Connecticut circa 1789. For a short time in the early 1880's the town name was changed to Monclova and the post office there went by that name. After two years of being known as Monclova, the citizens there consented to change the name back to Preston Hollow. It was incorporated as a village in 1870.[1]
Population
According to the U.S. Census, in 2000 the population of Potter Hollow and Preston Hollow combined was 374.
Early Settlers
Early settlers of Preston Hollow included Henry Couchman who emigrated from Dutchess County circa 1793. Couchman found that where he settled and a half miles from the present village he found the nearest mill being at Leeds and the nearest apple tree in Schoharie. He later would get a bushel of apples, save the seeds, and raised an orchard which still graced his the farm in 1886.
Other early arrivals included Joseph Burchard, Jr., Teal Rockefeller, George Wait, and Captain Daniel Shay, Burchard emigrated from Connecticut in 1798. Teal (Theil) Rockefeller arrived circa 1797 and ran a blacksmith shop early on. George Wait built a tavern not far from Rockefeller's blacksmith shop. Captain Daniel Shay emigrated from Massachusetts about 1795 and later became a leading business man in Preston Hollow.[1]
Churches
Schools
Historic Businesses
This section will have the history of each business beginning from its establishment, through various ownerships and name changes. Pictures may be used provided you have authority to post them.
Hotels, Inns, Taverns, and Resorts
Sawmills and Feedmills
Industry
Stores
Other Businesses
Cemeteries
Photo Gallery
This section is for scenic photos and post cards of the hamlet. Photos of people and families should be posted on biography or family pages.
Sources
External Links