Potter Hollow
From Helderberg Hilltowns of Albany County, NY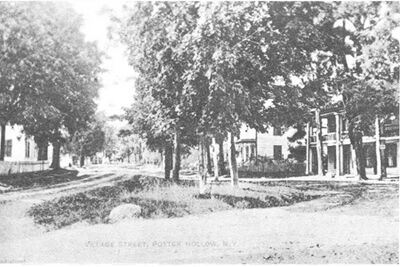 Location
Potter Hollow is a hamlet in the extreme western part of Rensselaerville.
History
Potter Hollow was named after one of it's first settlers Timothy Potter who settled there about 1806.[1].
Population
According to the U.S. Census, in 2000 the population of Potter Hollow and Preston Hollow combined was 374.
Early Settlers
Early settlers in addition to Timothy Potter were Samuel Palmer in 1806, Gerardus Drake in 1803 and John Drake in 1808. Stephen Treadwell, a minister of the Friends Church, settled in 1816.[1]
Schools
Churches
Historic Businesses
This section will have the history of each business beginning from its establishment, through various ownerships and name changes. Pictures may be used provided you have authority to post them.
Hotels, Inns, Taverns, and Resorts
Sawmills and Feedmills
Industry
Cemeteries
Photo Gallery
This section is for scenic photos and post cards of the hamlet. Photos of people and families should be posted on biography or family pages.
Sources
External Links