Bouton, Caroline
From Helderberg Hilltowns of Albany County, NY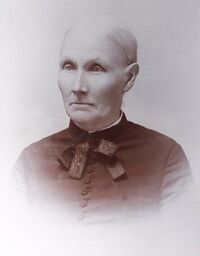 Birth
Caroline Bouton was born December 18, 1817, in Berne to David Bouton and Salome Hopkins.
Marriage & Children
Caroline married Jonathan Tallman, a son of Jeremiah Tallman and Catharine Akin on September 18, 1834, in Berne. They had twelve children:
They raised their family on Peasley Road in Huntersland on Lot 398.
Death
Caroline died on October 22 1898, at 80 years of age. She is buried with Jonathan in Huntersland Christian Cemetery in Huntersland.
Additional Media