Deitz, John Jost P.
From Helderberg Hilltowns of Albany County, NY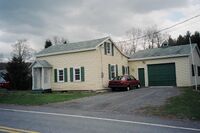 Birth
John Jost P. Deitz was born on July 12, 1817, at Beaverdam, Berne, Albany, NY. His parents were Peter Ives Deitz (Apr 15, 1791 - Apr 6, 1855) and Elizabeth Haverly (Jan 27, 1794 - Mar 19, 1842). He was the fourth of thirteen children.
Occupation
He was a Stone and Brick Mason.
Marriage & Children
John Jost P. Deitz married Anna Maria Bassler, daughter of Frederick Bassler III and Maria Salsburg, on January 4, 1838, at the Beaverdam Reformed Church in West Berne. They bought an acre of land at Pleasant Valley, in the town of Knox, near the Bassler homestead from Elias Bassler, the brother of Anna Maria. They lived there in a small house that is still lived in today. They had the following six children:

Ellen Deitz - b. Nov 3, 1840 d. Mar 22, 1844 At Albany, NY, at age 3. Buried at the Peter Deitz Farm Burying Ground, Berne.
Peter B. Deitz - b. Apr 10, 1847. He married Adeliade Engle, on Jul 1, 1868 at the Lutheran Church, Berne. He and Adeliade appeared on the census of 1880 at Lenox, Madison, NY. He was a brick mason.
John Frederick Deitz - b. Apr 20, 1849. He married Elmira Baker before 1870. He died on May 6, 1912 at Springfield, Hampton, MA, at age 63. He appeared on the census of 1880 at Albany, NY. He was a clerk.
Death
John died on March 5, 1872, at Pleasant Valley, Town of Knox. He was buried at Berne and Beaverdam Cemetery in Berne.
Additional Media
Sources
---