Warner, Carrie E.
From Helderberg Hilltowns of Albany County, NY
Birth
Carrie E. Warner was born on 22 Nov 1858 in the hamlet of Berneville, Albany County, NY. Her parents were John Warner 2nd and Catharine (Katie) West. She was the sister of Civil War soldiers George H. Warner and Peter William Warner. The family lived in The Jacob Ball House, the first brick house in Bernville, located on the present site of St. Bernadette's Catholic Church. The site was then a farm where Carrie grew up.
Education
Not known. But, from reading land deeds that allowed her Deitz family to buy in 1899 a house on Jug Street, Berne, it is clear she could read and write. She probably attended school in Bernville.
Occupation
The deed that allowed her to buy the Fanny Onderdonk house in 1899 stated that Mrs. Onderdonk and Carrie Deitz were both Housekeepers. That deed stated Carrie paid $10. and promised "certain care and support maintainance" to the elderly Fanny Onderdonk for the house. Fanny Onderdonk lived with the Deitz family 14 years. She died there in 1914, the same year Ellery Deitz died. Carrie was also a homemaker.
Marriage & Children
Carrie E. Warner married Ellery Willes Deitz, son of John Jost P. Deitz and Anna Maria Bassler, on 22 Nov 1881 at the Town of Berne, Albany County, NY. They lived with Ellery's mother, Anna Bassler, in her house in Pleasant Valley, Town of Knox, NY. Their two children were born there:
Nellie B. Deitz-b.26 Oct 1883. As a young woman she developed severe rheumatoid arthritis and was confined to a chair. According to Edythe Deitz writing in Our Heritage, "With her keen mind, sense of humor, patient suffering, and encouraging words to others, the entire community mourned her death in 1925 at the age of 42."[1929 at age 45] Rev. A. Seso, a former pastor of Berne Reformed Church who visited Nellie often, wrote a poem he read at her funeral called, "The Martyr of the Hills". She left behind 20 years of annual diaries providing much info on that section of the Deitz family, and all the people that visited, phoned, or wrote cards to Nellie. She also wrote many cards and letters herself.
Frederick N. Deitz-b. 3 Nov 1887. He married Theodora N. Haverly, dau of William J. Haverly and Carrie E. Naughright, on 25 Jun 1908 at Gallupville, Schoharie County, NY. They had a daughter, Margaret who lived 3 weeks, and three sons; Harold, Franklin, and Walter. Fred taught school for some years, and was instrumental in getting the Berne-Knox Central School built in the 1930s. He also delivered rural mail for the Berne Post Office for over 30 years.
Death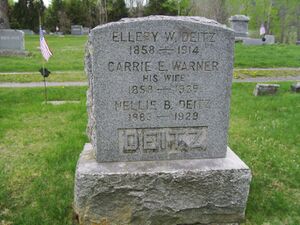 Carrie E. Warner died on died on 19 Oct 1939 at Town of Berne, Albany County, NY. She was buried on 22 Oct 1939 at Woodlawn Cemetery, Town of Berne, NY.
Obituary
Additional Media
Sources
---