Deitz, John Frederick
From Helderberg Hilltowns of Albany County, NY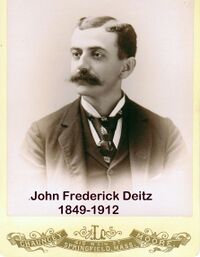 Birth
Johh Frederick Deitz was born on April 20, 1849. His parents were John Jost P. Deitz and Anna Maria Bassler.
Occupation and Life
John appeared on the 1850 Town of Knox census (1yo), and lived in Knox until 1870, where he appeared on the Town of Wright census as 21 years old and married to Elmira and selling dry goods, and with one daughter Lillian (2 months). In 1865, John was a farmer, living with his parents in Knox. By the 1875 Albany, Albany, NY census, John was recorded as 26 years old, working as a clerk, and living with his wife "Carrie", and with a son Willie B. (5), daughters Elmira (3yo), Lillian (2), and "child" Maud (3 months) and mother-in-law Emily Baker. In the 1880 Albany census, John was a 31-year-old clerk. He lived with his wife Elmira, daughters Lillian (10), Maud (8), Carrie (7), and son William (5), and mother-in-law Emily Baker. By 1892, John F. Deitz appeared in the city directory of Springfield, Massachussetts. John was 57 years old with no occupation in the 1900 Springfield census. He lived and his wife Elmira and a son Edward J. (14), all in the residence of married Maud Davis, presumably his daughter.
The 1910 Springfield census recorded John F. as 61 and a manager at a paper company, living with his wife Myra and 25 yo son Edward and widow Lillian 40, presumably his daughter. Myra had 5 children born and 5 living.
Marriage & Children
John married Elmira Baker by 1870. Recorded children's names were Lillian, William B., Elmira, Maud, and Edward J. John's wife Elmira was recorded on the 1913 Springfield directory as a widow, and on the 1940 Springfield census as 92 years old.
Death
John died on May 6, 1912 in Springfield, Massachusetts. His death certificate was witnessed by William B. Deitz, and John was married, a commercial traveler in the paper industry, and born in Berne, NY.
Obituary
Additional Media
Sources
---