Deitz, Miner
From Helderberg Hilltowns of Albany County, NY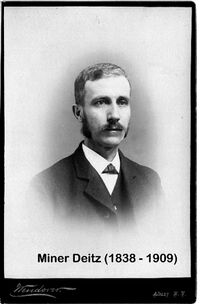 Birth
Miner Deitz was born on April 30, 1838, to Johan Jost P. Deitz (John Jost P. Deitz) and Anna Maria Bassler, in Berne.
Occupation
The 1870 Town of Knox census had Miner and Sarah living in the same dwelling as Sarah's brother, William Henry Harrison Posson, and the occupation of Miner Deitz and William Posson was "hucksters." The business "Deitz and Posson, merchants" appears in the 1870 Child's Gazeteer.
Marriage & Children
Miner was married to Sarah Posson on November 20, 1862. They had three sons.
Ellis William Deitz
Courtney S. Deitz
Death
Miner died on April 1, 1909, and is buried at Old Stone Fort Cemetery.
Obituary
Additional Media
Sources
---