Westerlo Farms, Natural Areas, and Outdoor Recreation
From Helderberg Hilltowns of Albany County, NY
Like all of the Albany hill towns, Westerlo is an area of pastoral natural beauty: scenic farmlands, distant vistas of the Catskill Mountains, steams, water falls, and forest land.
Note: As with almost every one of the pages on this site, if someone has an idea they want to add, or re-word what is written, they are welcome to register, sign in, click on the Edit tab that will then appear, and have at it.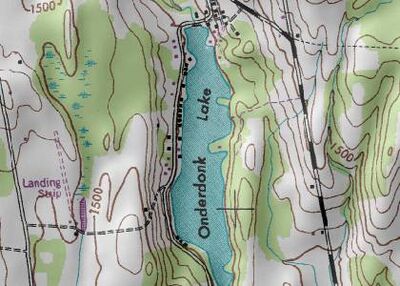 Current Events
Westerlo Historical Calender for 2010
Westerlo Fire Co. Volunteers are selling Westerlo Historical Calenders for 2010. The theme this year is "Transportation Over the Years." The calenders are also available in Rensselaerville at the Hilltown Café; in Greenville at The Booksmith, Greenville Norton Lumber, and the Greenville Library; in Dormansville at Hill...town Farm and Garden and Original Applebees; and in Westerlo at the Town Hall, Hannay Reels, and M & B Stop & Shop. Price is only $6! For home delivery call Raye Saddlemire 966-4082 or Kate Lathalm 736-3295.
EXISTING
Reserves
Reserves and Outdoor Recreation
Bear Swamp was designated a Registered National Natural Landmark by the Department of Interior in 1973. Bear Swamp itself dates from 13,000 years ago, with the retreat of the last glacier. The rhododendron at Bear Swamp are a relic stand, the northernmost in New York State.
Westerlo Town Park - has playing fields, a pavilion, picnic tables and toilets.
Water Recreation
Onderdonk Lake - is there public access
Farms and farm activities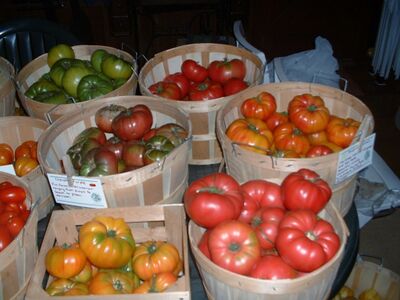 Bee & Ewe Farm - Wholesale honey. Yarn and blankets made with farm raised wool. 76 Stewart Rd.; Tel. (518) 765-2326.
Eight Mile Creek Farm - Unusual varieties of certified organic fruits, vegetables and herbs in season, certified organic eggs year round, grass-fed organic beef We have a CSA,[1] sell at local farmers' markets, to food cooperatives, as well as direct from our farm. Call ahead daily for requests and seasonal availability. Will harvest fresh for your arrival. Pamela McSweeney, 40 Johnny Cake Hill Road, Westerlo; Tel. 518-966-5468.
Golden Acres Farm - Beef cattle. 756 NYS Route 143; (518) 797-3021.
Weston Hill Farm and Boarding Kennels - 133 Route 412; Tel. (518)797-9252.
References
↑ Community Supported Agriculture (CSA) - a popular way for consumers to buy local, seasonal food directly from a farmer. Here are the basics: a farmer offers a certain number of "shares" to the public. Typically the share consists of a box of vegetables, but other farm products may be included. Interested consumers purchase a share (aka a "membership" or a "subscription") and in return receive a box (bag, basket) of seasonal produce each week throughout the farming season.
Historic cemeteries and family burying grounds
The following historic cemeteries and family burying grounds are easily accessible and are maintained. There are many more that are abandoned and overgrown.
(to be written)
Extant historic buildings
Historic buildings (other than those previously listed under Visitor Facilities). Unless otherwise noted, these are not open to the public and may just be viewed from the road.
(to be written)
Churches
One room schools
Businesses and organizations
Houses
Barns
Visitor facilities
Visitor facilities in Westerlo and nearby towns.
For Something to Eat
In Westerlo and adjoining towns.
Casa Mia's - Pizza. Route 85; Tel. (518) 872-0378.
China Wok - Bryants Country Sq, Greenville; Tel. (518) 966-5588.
June's Place - 2082 Delaware Turnpike Rte. 85, Clarksville; Tel. (518) 768-2398.
P & L Deli - Convenience store & Italian gourmet deli, Westerlo hamlet; Tel. (518) 797-3233.
M & B's Stop & Shop - Convenience store & gas station, Rte. 85; Tel. (518) 872-0701.
Sisters Two, 585 State Route 143, Westerlo; Tel. (518) 797-3026.
Shell Inn - Family dining. 4520 State Route 85; Tel. (518) 797-9682.
Sophia's Pizza - Route 32, Greenville; Tel. (518) 966-4040.
Westerlo General Store - Convenience store, deli and gas station, Rte. 143, Westerlo hamlet; Tel. (518) 797-3601.
Vince Anna's - Italian restaurant, 185 Creamery Rd, Greenville; Tel. (518) 966-8892.
See also visitor facilities in adjoining towns:
Places to stay
For something special
to be written
PROPOSALS
Promotion
Advertise the natural beauty of the hill towns and the outdoor recreation opportunities.
Attract folks interested in hiking, fishing, history, and photography.
Make the hill towns known for their great variety of trails.
Trails
Look for opportunities for expanding the existing system of trails.
The towns should encourage the planning and construction of scenic trails for use by hikers, bikers, horseback riding, fisherman, photographers, cross country runners, etc is encouraged. In the fall they might be used by hunters; in the winter by cross country skiers.
Promote a system of bike trails though-out the hill towns.
Add new trails to connect existing natural reservations.
Identify existing resources
Historic mill sites
Survey of historic mill sites to locate and document the conditions of the remains of any historic sawmills and grist mills and dam sites. Like abandoned cemeteries, these abandoned ruins will eventually be lost. It would be good to know exactly where they were before it is to late.
Family burying grounds
Locate and restore abandoned family burying grounds whose locations are not now known.
Historic building survey
to be written
Expand existing area
to be written
Additional visitor facilities
In any district of the town a home owner may operate a Guest House. The definition of a Guest House is a home owner who makes extra bedrooms available in their home for occasional guests. The Guest House is not a business but rather a way to earn extra money for the home owner from time to time.
Landowners whose land a trail crosses or who live within say 1000 feet of a trail could be encouraged to build facilities along such trails to benefit users of the trails and to charge for their use: trail shelters, tent camping sites, toilet facilities, picnic tables, fire pits.
With special permits, landowners in agricultural districts should be allowed to build cabins for rent by the day or week, and to build facilities for use by recreation vehicle campers.
Adjoining Hill Towns
Farms, natural areas, and outdoor recreation opportunities in adjoining hill towns: