Onderdonk Lake
From Helderberg Hilltowns of Albany County, NY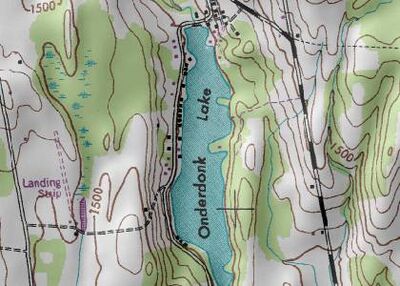 Location
Onderdonk Lake is located at latitude - longitude coordinates (also known as lat-long or GPS coordinates) of N 42.5448 and W -74.08513. Onderdonk Lake is shown in the center of the topographic (topo) map, which is sourced from the United States Geographical Survey map USGS Westerlo quad. The nearest major town is Westerlo, NY.
The lake is accessed from Switzkill Road just east of its intersection with Cole Hill Road.
History
Onderdonk Lake used to be known as Mud Hollow Pond. A dam was built to make it a mill pond for the South Berne Mill a mile to the north. At the time there were four to ten foot stumps of drowned trees sticking out of the water in nearly half the upper end, and no habitation.[1]
Current
The shore line was divided into building lots for summer camps. Most of these are now year around homes.
Businesses
Gallery
Sources