Warner, Mathias C. Jr.
From Helderberg Hilltowns of Albany County, NY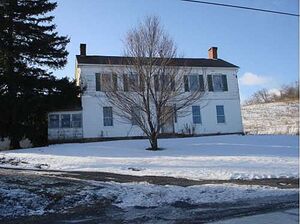 Birth
Mathias C. Warner Jr. was born on 2 Feb 1765 at what is now the Town of Berne, Albany, NY, the son of Christopher Warner who settled at the north end of Warners Lake. He was called Jr. to differentiate him from his grandfather Mathias who was still alive.
Marriage and Children
Mathias married Anna Hane, daughter of (Johan) Peter Heen and Anna Elisabeth Luccenbach, on 17 Oct 1786.
Peter M Warner - b. 7 Apr 1790, probably on his grandfather's farm.
Maria Warner married Peter Barkley
Elizabeth Warner married William Campbell
Life
23 Feb 1792 he leased from Stephen Van Rensselaer III Lot 652 in what is now the Town of Knox, Albany, NY. (See attached). His first payment was due in 7 years; that indicates the land had not yet been cleared. This despite the fact the 1787 map shows a cleared field in the center of the lot. Probably it was overgrown. The person who originally cleared the land probably left when Van Rensselaer demanded rent. The map also shows a couple of swamps on the property.
1801 - Reportedly built the Mathias C. Warner House in 1801. Mathias' father Christopher had a sawmill that was undoubtedly the source of the lumber for the house.
Death
29 Jul 1844 at Town of Knox, Albany, NY Mathias wrote his will. His wife was not mentioned, so she must have predeceased him.
9 Jul 1846 at Town of Knox, Albany, NY, Mathias died at age 81. He was buried at Warner Family Burying Ground, East Berne, Albany, NY. His estate was probated on 26 Jun 1847.
His Will
Additional Media
Sources