Becker, Lewis Henry
From Helderberg Hilltowns of Albany County, NY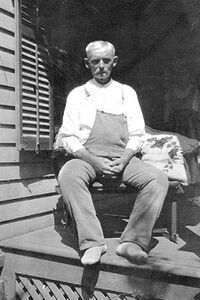 Birth
Leuis (Lewis) Henry Becker, was born March 3, 1854 in Berne, son of Peter Becker (31 OCT 1824 - 4 NOV 1888) - Elizabeth Anne (Libby) Milner (4 JUL 1820 - 15 MAR 1874). Leuis had red hair. His siblings were:
Elizabeth Becker (1849 - 1861)
Elizabeth E. Becker (3 AUG 1852 - 11 APR 1864)
James B. Becker (28 JUL 1855 - May 28, 1930)
Marriage and Children
Leuis married Sarah E. Barton Abt 1875 and they had five children:
His wife Sarah died when their youngest son Omer was 1 yr. 3 months old. After the death of his first wife, Leuis married Mary Elizabeth Wood and they had three children:
Death
At the time of death, November 24, 1920, Leuis was living at the corner of Switzkill Rd. and Sickles Hill Rd. and was believed to die at home. Louis is buried in the Huntersland Christian Cemetery, Huntersland, NY.
Obituary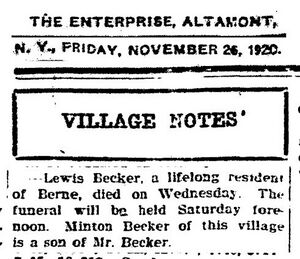 Lewis Becker, a lifelong resident of Berne, died on Wednesday (November 24, 1920). The funeral will be held Saturday forenoon. Minton Becker of this village is a son of Mr. Becker.
Additional Media
A small party of friends and relatives gathered at the home of Mr. Lewis Becker, in Switzkill, on last Wednesday evening, to witness the marriage of his daughter Iva, to Benjamin L. Filkins, son of Joseph Filkins. The ceremony was performed by Elder Warner, of South Berne. Miss Lena M. Fllkins, sister of the bridegroom, was bride's maid, and Mr. Elvin Wright was groomsman. After the young couple had received the congratulations of their friends, the excellent supper provided was fully enjoyed. Mr. and Mrs. Filkins received a number of useful gifts, including chairs, table ware, bedding and silver, in value about fifty dollars worth. On Thursday the bridal party and relatives, about thirty in number, met at Mr. Joseph Filkins' home on Filkins' Hill, and the day passed pleasantly in social enjoyment, not neglecting the good things provided for the refreshment of the inner man. Mr. and Mrs. Filkins have the best wishes of their friends for a happy and prosperous future.
James Becker of Schoharie, uncle of Minton Becker of Altamont, died on Wednesday (May 28, 1930) evening at his home, following a stroke last Friday. His funeral will be held on Sunday at 2 o'clock, standard time, at Lutheran church, Shoharie.
Lewis H. Becker family reunion
By Mavis Schanz
BERNE — The descendants of Lewis H. Becker held a family reunion at the Miller Pond House on Helderberg Trail in Berne on Sunday, Aug. 6. Descendants from the Iva (Ivy) and Benjamin Filkins family came from as far away as Concord and Rockwell, N.C. Others arrived from Homer, Moravia, Albany, and Huntersland, N..Y.
The descendants of Minton and Lucilla Becker joined them, coming from Waltham, Mass. and Pattersonville and Ballston Spa, N.Y.
The Omer and Ada Becker family members attended from Berne, East Berne, Ravena and Huntersland, N.Y.
Representative family members from the Alice and Frank Becker family attended from South Bethlehem and Voorheesville. There were 59 in all, joining for a great time of food, fun, and swimming.
Also joining them were descendants of John and Dorothy Becker of Schoharie. John is a descendant of James and Alice Barton Becker. James and Lewis Becker were brothers, who married sisters Alice and Sarah Barton. Sarah and Lewis lived in Berne; James and Alice moved to Middleburgh in Schoharie County.
Sadly, no one from the Anina and Avery Jansen family were present. Maybe they'll come next year, where we hope to see even more family members on Aug. 12, 2001, at the Miller Pond House.
---