Huntersland Christian Church
From Helderberg Hilltowns of Albany County, NY
Location
Hunterland Christian Church is located in Huntersland on Huntersland Road (County Route 10) less than 50 yards from the Schoharie County line.
History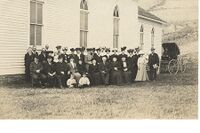 The roots of the Huntersland Christian Church go back to 1825 when Elder John Spore gathered nine brethren and sisters as a branch of the Freehold Christian Church. In 1834, they became an independent church under the name Second Christian Church of Berne. (The First Christian Church of Berne was in Reidsville.) The following year the first church building was erected on the present site. It was an "Evangelical" church. Baptisms were by full submersion in a sawmill pond across the road. In the winter of 1840 a hole was cut in the ice and twenty people were immersed. By 1861 membership had increased to 188.
A new church was erected in 1885 on the old site. Two oil chandeliers lighted the church. At some later date they were replaced with the present single chandelier. It must be lowered to light the flame, then raised back up. The church was not used in the winter, but there is a stove on each side of the sanctuary to remove the chill on cold fall and spring mornings. A few years after the present church was constructed there was a change of pastors and the church became Pentecostal in nature. After the turn of the century and another new pastor, the church became more like the Methodist religion. Over the next few decades membership declined, as many farmers moved off the mountain, unable to make a living tilling the poor, rocky soil. In the 1930's, as part of the Federal Government's efforts to end the depression, a Resettlement project bought up the abandoned land, as well as farms that were barely providing their owners subsistence. The land was given to the State of New York and is now is part of the Partridge Run State Wildlife Management Area. By the 1960's the Huntersland Church no longer had sufficient members to continue.
Current status
In 1994 the Church Counsel gave up plans to dispose of the church as long as services are held once a year. Steve and Anne LaMont, along with Walt and Claudia Wissert, have been cleaning and doing small repairs since then. Donations at the yearly service pay for the repairs. The LaMonts work diligently to preserve, interpret and share the history of Huntersland.
It is unfortunate that with the passing of time the records of these congregations and their accomplishments have been lost. Euretha Wolford Stapleton, former Town of Berne Historian
Photographs
The below photographs were taken by Russ Tallman at the one service held at the church in 2007.