Gibbs, Harrison Benjamin (Harry)
From Helderberg Hilltowns of Albany County, NY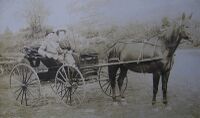 Birth
Harrison Benjamin (Harry) Gibbs was born on 4 Nov 1888. His parents were Albert Gibbs (Apr. 1, 1855-Mar 4, 1897) and Eve Ann Ball (May 7, 1852- Sept. 24, 1908). Eve Ann was a daughter of Robert Ball and Anna Barbara Dietz. They lived in the Albert Gibbs house on one acre of the Robert Ball farm where Harry grew up. The house later became the home of Clyde L. Ball. His siblings were:
Floyd Eugene Gibbs-b.4 Mar 1879-d. 24 Dec 1879. He worked for the Town of Knox as Highway Superintendent, Deputy Sheriff,& Justice of the Peace. He married Minnie Harriet Mattice on 22 Feb, 1899. They had children; Rachael Mcmillen (1900-1979), Albert Ira Gibbs (1902-1991).
Cortland Palmer Gibbs-b. 21 May 1881-d.?. He married Julia Emma Van Woemer abt. 1900. They had 2 children; Susan E. Oliver(1903-1993), and Elizabeth W. Eldred (1905-1983).
Franklin J. Gibbs-b. 30 Jun 1885-d. 20 Aug 1886.
Anna B. Gibbs -b. 4 Nov 1886-d. 20 Oct 1979.She was a homemaker.She married farmerHenry Alson Miller (1876-1965) on 31 Jun 1905 at Town of Berne. They had 2 children; Hubert Henry Miller (1906-2001 and Chester Alson Miller (1908-1974).
Ethel May Gibbs-b. 6 Nov 1890-d. 31 May 1989. She was a homemaker and an active member in St. Paul's Lutheran Ch. in Berne. She married Charles Mc Dermott (1881-1950) abt. 1915 at Town of Knox, Albany County, NY. They had 3 children; Alton Gibbs (1918-2001), Eunice O'donnell(1919-1966), and James Gibbs(1922-1965).
Robie J. Gibbs-b. 20 Mar 1893-d. 28 Apr 1894).
Education
He probably attended school at the red brick school of district #14 on the corner of Switzkill Rd. and Ravine Rd. a stone's through from their house. He could read and write.
Occupation
Harry Gibbs was was a retired farmer and a member of the Knox Reformed church. Harry grew up on a farm and became a farmer. After marriage, he purchased the Hill and Dale Farm in Pleasant Valley, Town of Knox.
Marriage & Children
Harry Gibbs married Vertie Clow on Mar 22, 1913. Her parents were Charles F. Clow and Mary Elizabeth Dennison. They had five children;
Harry and Vertie loved to travel, and in retirement years from farming, they traveled with Clyde and Alta Ball to many states. They were best friends and relatives.
Death
Harrison Benjamin (Harry) Gibbs died on August 9, 1975 at Hill and Dale Farm, Knox, Albany Co., NY. He was buried at the Knox Cemetery, Knox, Albany Co., NY. Vertie died on March 19, 1995.
Obituary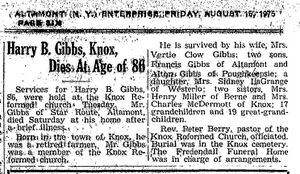 Harry B. Gibbs, Knox, Dies At Age of 86
Services for Harry B. Gibbs, 86, were held at the Knox Reformed church Tuesday. Mr. Gibbs of Star Route, Altamont, died Saturday (August 9, 1975) at his home after a brief illness.
Born in the town of Knox, he was a retired farmer. Mr. Gibbs was a member of the Knox Reformed church.
He is survived by his wife, Mrs. Vertie Clow Gibbs; two sons, Francis Gibbs of Altamont and Alton Gibbs of Poughkeepsie; a daughter, Mrs. Sidney LaGrange of Westerlo; two sisters, Mrs. Henry Miller of Berne and Mrs. Charles McDemott of Knox; 17 grandchildren and 19 great-grandchildren.
Rev. Peter Berry, paster of the Knox Reformed Church, officiated. Burial was in the Knox Cemetery. The Fredendall Funeral Home was in charge of arrangements.
Additional Media
Photo Winner
Brian Gibbs, son of Marion Gibbs of Knox and the late Francis Gibbs, was one of five $100 prize winners at the Rensselaer County Council for the Arts's seventh annual regional photography exhibition.
JUNE HALSEY GIBBS, 73: Newspaper Obituary and Death Notice
Times Union, The (Albany, NY) - Thursday, March 28, 1996
Deceased Name: JUNE HALSEY GIBBS, 73
ROTTERDAM -- Private services will be held for June Halsey Gibbs, 73, who died Tuesday at her residence.
Ms. Gibbs was born in Guilderland. She moved to Knox in 1935, and to Rotterdam in 1988. She established and operated Green Acres Mobile Home Park in East Berne from 1966 to 1988. Mrs. Gibbs was a member of the East Berne Businessman's Association and the Thompson's Lake Reformed Church in East Berne.
She was the widow of James A. Gibbs.
Survivors include a daughter, Jeanne Bascom of Albany; three grandchildren; and two great-grandchildren.
Burial will be in Knox Cemetery.
Contributions may be made to the American Heart Association, 440 New Karner Road, Albany, NY 12205, or to the American Cancer Society, 1450 Western Ave., Albany, NY 12203.
Edition: THREE STAR
Page: B10
Copyright, 1996, (c) Times Union. All Rights Reserved.

'Saptime On The Farm'
"Saptime on the Farm" was an interesting program Feb. 22 at the Knox Historical Society, held in the Knox firehouse. A large attendance enjoyed the artifacts and slides of early equipment and processes used in the making of maple syrup from the colonists to the present day. Francis Gibbs showed the slides while Marion Gibbs explained in detail the pictures. Some interesting facts were that it takes 30 to 40 gallons of sap to make one gallon of syrup; the more one drinks of the sap the thirstier one becomes; and only about 10 percent of maple trees are tapped presently in New York State, but formerly every farm had a sugar bush. Last year New York State produced more maple syrup than our neighboring state. When the temperatures are above 40 degrees in the daytime and freezing at night, it is maple syrup' time, or "sugarin' off time." A gallon of syrup has to weigh 11% lbs. Mrs. Vertie Gibbs makes the creamy maple spread at the Hillendale Farm, where all their products are sold. When' buying maple syrup, look for the word "pure" on the can. Each person received a maple lollipop. The exhibit of early Valentines was colorful with cards dated from 1905.
Refreshments chair person Marshall and Virginia Clickman completed the evening by serving ice cream or waffles, covered with maple syrup, and coffee.
Mr. and Mrs. Philip Gibbs visited his grandmother, Vertie Gibbs on Sunday.
Mr. and Mrs. Chris Hilton were weekend guests of his aunt, Marion Gibbs and son Brian. Mr. and Mrs. David Coon of Huntington, Mass., are the proud parents of a baby girl named Victoria Ann, born on July 26. The paterna1 grandparents are Mr. and Mrs. Frank and Verlane Coon of Russel, Mass. The paternal greatgrandmother is Marion Gibbs of Knox and the paternal great-greatgrandmother is Vertie Gibbs of Knox.
Brian Gibbs, son of Francis and Marion Gibbs, left Sept. 12th for Paris, France to study at American College., in Paris with a scholarship from Junior College, Albany where he is a second year student.
Knox Community Notes
Guests at the Harry Gibbs home on Sunday were Francis Gibbs of Trumansburgrg and Marion Hilton of Altamont.
Sources
---