Hannay, Dwight C.
From Helderberg Hilltowns of Albany County, NY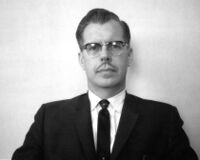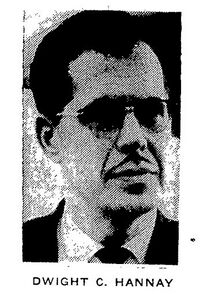 Birth
Dwight C. Hannay was born 1918, , the son of Clifford Beman Hannay (14 MAY 1894 - 16 NOV 1962) and Hazel Estella Barber (26 APR 1895 - 30 JAN 1969). His siblings were:
George A. Hannay (7 MAY 1920 - 10 NOV 1997)
Frances L Hannay (AUG 1922 - NOV 1922)
Education
Occupation
Dwight Hannay was head of C. V. Hannay Manufacturing Co., Westerlo,
Marriage & Children
Dwight C. Hannay married Doris E. Velie, a native of Greenville. Their children were:
Robert D. Hannay, Westerlo; a daughter
Mrs. Carol F. Guilizon, who is in Alaska where her husband is on military duty;
Death
Dwight C. Hannay died May 2, 1965 in a plane collision.
Obituary
CONTINUE INQUIRY IN WESTERLO AIR CRASH; 3 KILLED
Federal aviation authorities and State Police continued their joint investigation this week into the cause of the airplane-helicopter collision and crash which took the lives of three Albany county men Sunday evening in Westerlo.
Killed were State Police BCI Investigator Leonard R. Garramone, 33, of Voorheesville, pilot of the plane; Dwight C. Hannay, 47, head of C. V. Hannay Manufacturing Co., Westerlo, who was at the controls of the copter, and Westerlo Justice of the Peace, William H. Furman, 35, who was a passenger in the Hannay craft.
Participating in the investigation are Fred Ryan, New York city, representing the Civil Aeronautics Board; Axel J. Nogard, Federal Aeronautics Authority, and Senior Investigator Charles O. Daucher of the State Police.
They said findings early this week indicated that Mr. Garramone was killed outright in the mid-air collision and that Mr. Hannay and Judge Furman died when the helicopter plummeted to earth and burned.
State Police said Monday the taking of aerial photographs from the helicopter was apparently responsible for the crash and the deaths of the men.
Mr. Furman, a camera enthusiast, took several pictures of Mr. Garramone and his newly-painted plane at Mr. Hannay's private airport. Then he boarded the copter and took sequence photos of the plane in flight, said the troopers.
Investigator Charles O. Daucher said both crafts were apparently flying in the same direction when they collided over the farm of Donald Jackson, less than a half mile from the airport.
Troopers said the wives of the three men, waiting at the airfield, looked on in horror as the helicopter and plane plummeted to the ground.
A spokesman of the Civil Aeronautics Board in Washington said it is believed the crash was the first plane-helicopter collision in aviation history.
Funeral services for Mr. Garramone were held at 8:30 a.m. Wednesday in Stanco Funeral Albany, and at 9:30 a.m. at St. Matthews Church, Voorheesville. Burial was in Calvary cemetery.
Services for Mr. Furman were conducted at 2 p.m. Wednesday at the Cunningham Funeral Home, Greenville. Burial was in Westerlo Rural Cemtery.
Mr. Hannay was buried in Westerlo Rural cemetery after services Thursday afternoon in Westerlo Baptist church.
Surviving Mr. Garramone are his wife and children, Eric, Christopher, and Timothy; his parents, Mr. and Mrs. Dominick Garramone of Albany, and two sisters, Mrs. Richard Johnston of Altamont and Mrs. Ronald Blodgett of Colonie.
Mr. Furman's survivors include his wife, the former Nina M. Barkman; three daughters, Mrs. Chas. Lendrum and the Misses Cheryl and Margaret Furman; two sons, Leonard and Michael Furman; his parents, Mr. and Mrs. Harold Furman; a sister, Mrs. Charles A. McDermott, Knox, and one grandchild.
Mr. Hannay is survived by his wife, the former Doris E. Velie, a native of Greenville; a son, Robert D. Hannay, Westerlo; a daughter, Mrs. Carol F. Guilizon, who is in Alaska where her husband is on military duty; a brother, George Hannay of Westerlo, and two grandchildren.
Altamont Enterprise - Friday, May 7, 1965
Additional Media
Dwight Hannay: Social Security Death Index (SSDI) Death Record
Name: Dwight Hannay
State of Issue: New York
Date of Birth: Sunday June 17, 1917
Date of Death: May 1965
Est. Age at Death: 47 years, 10 months

10:30 a. m. Morning worship; GUILZON — HANNAY
Miss Carol Hannay, daughter of Mr. and Mrs. Dwight Hannay of Westerlo, became the bride of David Guilzon, son of Mr. and Mrs. August Guilzon of Westerlo, July 6 (1963) in First Baptist church. Rev. Roland Miller performed the ceremony. The bride Wore a gown of silk bombazine with lace and a rose headpiece which held her veil. She carried white orchids and stephanotis.
Mrs. Robert Hannay was matron of honor. Bridesmaids were the Misses Cheryl Guilzon, Christine Lavigne and Faith Nelson. They wore gowns in blue, pink, yellow and lilac respectively. Albert Lavigne was best man. Ushers were Robert Kaminski, William Kaminski and Bruce Healt.
Both are graduates of Berne-Knox Central school. The bride attended Houghton College. The bridegroom, a graduate of Hudson Valley Community College, is in the Air Force, stationed at Lowry Air Force Base, Denver, Colo., where the couple will live.
Altamont Enterprise - July 19, 1963
Misjudgment Is Blamed For Fatal Air Crash
The crash in which three lives were lost in a midair collision of a helicopter and light plane May 2 in Westerlo was caused by misjudgment on the part of the plane's pilot, Leonard Garramone, 33, of Voorheesville, the Civil Aeronautics Board has reported. Mr. Garramone, an investigator with the State Police Bureau of Criminal Investigation; Dwight C. Hannay, 47, a Westerlo manufacturer, and William Furman, a Westerlo justice of the peace, were killed after the aircraft collided shortly after takeoff. The CAB report, issued in Washington, said Mr. Garramone "misjudged the speed" of his Taylorcraft plane "while attempting to maneuver into close proximity" with the helicopter.
Although the agency criticized Mr. Garramone's judgment in trying to fly so close to another aircraft, the report indicated that Mr. Furman, a passenger in the helicopter, might have asked for the close manuevering in order to take pictures.
The CBA said that before takeoff Mr. Furman was seen talking to Mr. Garramone.
Both the plane and the copter took off, the report continues, and the "Taylorcraft was observed overtaking the Hughes (helicopter) at an altitude of 400 or 500 feet." The rotors of the helicopter were seen by several witnesses to make contact with the Taylorcraft propeller and the left wing of the Taylorcraft was seen to fold back."
The agency reports that both aircraft then fell to the ground "with the helicopter appearing to explode on contact." Examination of the wreckage gave no evidence of mechanical failure, the CAB said.
Altamont Enterprise - September 17, 1965
Sources
---