Bellinger, Lillian (Warner)
From Helderberg Hilltowns of Albany County, NY
Lillian (Warner) Bellinger - Memories
I can remember my father being so proud of the fact that he had left Berne at a young age and traveled to New York City to become a conductor on the electric cars that ran there. He was a conductor for a year, but had to return home to the family farm to help his mother after his father died. He often talked about those times in later life.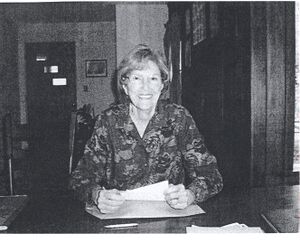 In 1917 my father married Dora Dietz and continued farming. During this time he also sold Watkins products throughout the area. Excerpts from his daily diary show that he spent a lot of his time on the road away from home. At this same time, my mother took in wash to make extra money. She would place a big copper tub on top of the wood stove and fill it by hand with pails of water carried in from the hand pump out back. The wash was done by hand in another tub filled with hot water from the stove, using hand soap and an old hand held scrubbing board. When the wash was done and rinsed, it was hung on the line to dry and if the line wouldn't hold it all, then it was draped over the bushes around the house. I can still recall seeing our yard covered with laundry drying and being bleached by the sun. If there was ironing to do, she would heat the flat irons on the wood stove. She would use a handle to pick up a hot iron and use it until it cooled and then return it to the stove and get a hot one. This procedure was followed until the ironing was done.
My twin brothers Frank and Francis used to pick night crawlers to sell to the fishermen up at the lake. They had an iron rod connected to a six-volt battery, which they would push into the ground. The electric current made the worms move to the top of the ground for easy pickings. They also caught minnows in the creek by our house to sell with the worms. When my brothers felt they had become too old to do this sort of work, I took over this thriving enterprise. Francis also tells about going to Schoharie to see the street movies. The movies were shown outside and you could watch from your car or bring chairs and set them up in the street.
The Mattice family ran a boarding house at the north end of the lake known as "The Lake View Cottage." My brother Francis was engaged to Alice Mattice. One night when Alice and I had gone for a walk down by the creek which ran by our house, my brother Francis was hiding in the bushes wearing a bearskin rug, which my father got from Jay Engle. When he came crawling out of the bushes growling, we almost died of fright and didn't stop running until we got to my house. It was a long time before my father forgave him for almost scaring us to death.
When I was growing up, I had a pet goat that I named just "goat." Billy Hayden and I trained it to do some tricks. We would walk down the road with the goat to Mr. Waterman's camp. Mr. Waterman was a cripple who spent his summers at the lake with his full time nurse, whom he married in later years. We would arrive at his front lawn and then proceed to entertain him. I would get down on my hands and knees and Billy would get the goat to jump over me, we would do this over and over to the delight of Mr. Waterman and his nurse. I think, as Billy got older, he got a job pushing Mr. Waterman around the lake in his wheel chair.
I believe it was in the 1960s before indoor plumbing was put in our house. But for many years after, my father still preferred to use the old two holer out back.
When I was fifteen, my father and I were down at Robert's Grove, now known as O'Hanlon's, and I was begging him to let me try driving the car. He finally relented and let me get behind the wheel. I shifted into gear and let the clutch out and we took off down the road. I had no idea what to do and the only thing that kept us from going into the lake was a big rock on the shore. After my father composed himself, he took over and drove us home. I don't think he ever told my mother and I know I will never forget my first driving experience.
When I was in high school, I worked part time for Peg Feeney at the telephone office in East Berne. I believe it was located across from Brownell's store in what is now the Filkins residence. I used to walk to work and would pass the Rest Seeker's Inn on my way there. One day as I walked by, a young man by the name of Carl Bellinger saw me. A while later, he had a friend's mother call my mother to see if I could go with him on a hayride. When he arrived at our home to pick me up, he was wearing the most beautiful Blue sport coat and I thought he was the most handsome man I had ever seen. Eventually we were married and I moved away from the farm at Warner's Lake.