Becker, Frank W. Jr.
From Helderberg Hilltowns of Albany County, NY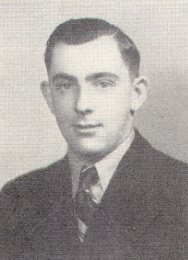 Birth
Frank was born in the Town of Berne on April 12, 1928, only son for Frank W. Becker, Sr. and Alice Julia Becker
Education
Frank was a graduate of Berne-Knox-Westerlo Central School in 1947.
Occupation
Frank worked for John Yarmchuck's Garage and then served in the United States Army during the Korean War from 1951 to 1953. After the war, he worked for Marshall Stevens Oil Company in Knox for 40 years, delivering oil and maintaining furnaces and retired in 1993.
Marriage & Children
On June 11, 1966, Frank married Virginia Mae Van Alstyne, a daughter of Elmer J. Van Alstyne and Martha Tallman.
Death
Frank died May 15, 2007, in New Scotland. His funeral services were held at Fredendall Funeral Home in Altamont, May 19 at 11:00 a.m. and later laid to rest in the South Bethlehem Cemetery.
Obituary
Becker, Frank Jr. NEW SCOTLAND Frank Becker Jr., age 79, of New Scotland, died suddenly at his residence on May 15, 2007. He was born on April 12, 1928, the son of Frank E. and Alice J. Becker. He is survived by his wife of 42 years, Virginia (nee Van-Alstyne); his daughter, Debbie Storm (Kenneth); his sister, Alice Haskell (John); grandchildren, Ronald and Larry Frank Lefavour. He is also survived by four great-grandchildren. He was the uncle of John Reginald (Christina) Haskell, Peter (Carmen) Haskell, Michael Haskell and Diane Stanley Brown. He is also survived by six nieces. Frank worked for 40 years as an oil maintenance man at Marshall Stevens in Knox, N.Y. Calling hours will be at Fredendall Funeral Home, Altamont, N.Y. on Friday from 4 to 8 p.m. Funeral service will be conducted on Saturday, May 19, 2007 at 11 a.m. at the funeral home. Interment to follow in the South Bethlehem Cemetery.
Published in the Albany Times Union from 5/17/2007 - 5/18/2007.
Additional Media
---