Barber, Anson
From Helderberg Hilltowns of Albany County, NY
Birth
Anson Barber was born 7 APR 1870 in the Town of Berne, Albany, NY, the son of Darius Barber and Lutia Jane Finch. His siblings were:
Mary Marinda Barber
Leland Barber
Casper Barber
Dellephine \ Stella Barber
Synthia Barber
Lutia (Lucy) Jane Barber
Ezica Peter Barber
Elsie Jane Barber
Ethmar Gideon Barber
Estella Barber
Annette (Nettie) Barber
Education
Occupation
Marriage & Children
Death
Anson Barber died May 15, 1950 at Memorial hospital, Caskill.
Obituary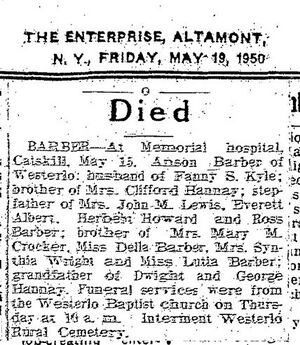 Died
BARBER - At memorial hospital, Catskill, May 15 (1950) Anson Barber of Westerlo, husband of Fannie S. Kyle; brother of Mrs. Clifford Hannay, step-father of Mrs. John M. Lewis, Everett, Albert, Herbert, Howard and Ross Barber; brother of Mrs. Mary M. Crocker, Miss Della Barber, Mrs. Synthia Wright and Miss Lutia Barber; grandfather of Dwight and George Hannay. Funeral services were from the Westerlo Baptist church on Thursday at 10 a.m. Interment Westerlo Rural Cemetery.
Altamont Enterprise - May 19, 1950
NOTE: My best guess is Anson Barber remarried to Fannie S. Kyle after the death of Emma W. Knowles in 1935 - this would account for the step-children. Emma's obituary lists him as the FATHER of - not the brother of - Mrs. Clifford Hannay
Additional Media
Sources
---
:Knox Biographies]]