Ball, William (1825-1897)
From Helderberg Hilltowns of Albany County, NY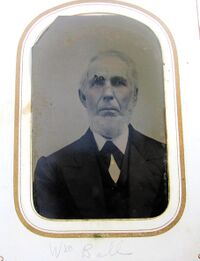 Birth
William Ball was born on February 6, 1825 at Berne, Albany County, NY. His parents were Peter Ball (1793-1883) and Eva Kniskern (1800- 1866). This is the same Peter Ball, leader of the Berne anti-rent farmers, who was thrown out of his house with his family in the winters of 1860 and 1865 by Walter Church and National Guard troops for refusing to pay back rent. Their farmhouse was near the present BKW High School in Berne, NY. William grew up on the Peter Ball farm.
Education
An 1864 Ball Family Bible has William Ball's name in gold letters on the cover with his wife's name. He made entries of family names in the Bible, so he could write and read.
Occupation
William Ball was a tailor, and with Abram Ball he ran a tailor shop on Main Street in Berne. He was known as "Tailor Bill". He also sold cigars in the shop. His home was on Jug Street in Berne.
Marriage & Children
William Ball married Melita Zeh (1830-1868), daughter of Christopher and Mercy Zeh, on January, 3, 1849 at Berne, Albany County, NY. Melita died at age 38. William then married Magdalene (Maggie) Schoonmaker Onderdonk (1837-1904) on June 1, 1870 at Berne, Albany County, NY. Her first husband was Charles L. Onderdonk (1836-1864). They had one child, Minnie Bell Onderdonk (1862-1948). She married Charles E. Ball (1856-1951) of Switzkill Valley, Berne, NY. When William Ball married Magdalene Onderdonk after their first spouses died, Minnie Onderdonk became the step daughter of William. William had no children of his own. He gave his Ball Family Bible to Charles and Minnie Onderdonk Ball for Christmas in 1889, according to an inscription. They later gave the Bible to their son, Clyde L. Ball.
Death
William Ball died 3 Aug. in 1897 at Berne, Albany County, NY. [1] He was buried in the Beaverdam Cemetery, Berne, Albany County, NY.
Obituary
Altamont Enterprise 6 Aug. 1897
(Berne) The funeral of Mr. William Ball was held at the Ref'd church on Tuesday morning, the Rev. H. E Roberts conducting the service. Mr. Ball was born in the village, and his whole life was spent here. Durlng his early life he engaged in business as a merchant, but for some years he has been retired from active work. Mr. Ball was for forty years a member of the Ref'd church and when in health was always very regular in attendance upon its services. For many years his falling health had prevented his attending church, but his faith in Christ was unfaltering, and with him the end was peace. A widow and brothers and sisters survive him.
Additional Media
Sources
---