Ludden, Alonzo Payson
From Helderberg Hilltowns of Albany County, NY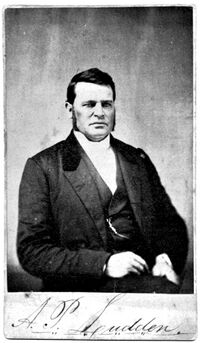 Birth
Alonzo Payson Ludden was born on July 11, 1819 in Cropseyville, NY.[1][2] His parents Sylvanus Ludden (D. abt 1820) and Sophia Hanaman (D. 1830) both died when he was young.[1]
Education
Alonzo Payson Ludden paid his own way through Amherst College by renting land and raising broom corn.[2]
Occupation
After graduating from Amherst, Alonzo taught school for four years at the Academy at Stephen's City, Va. and while there studied theology.[2] He then became a Lutheran minister.
Marriage & Children
He married Caroline Grove, daughter of Col. John W. Grove[3] of Stephen's City.[4][5][6][2] They had a large family that included:
Life
Alonzo's parents died when he was young and after their deaths, his two older brothers sent him to work for a Massachusetts farmer.[2] It was at this early age that Alonzo heard the calling from God..[2] After graduating from Amherst, he moved to Stephen's City Virginia where he taught school, studied theology and married his wife Caroline.[2] His first job in the Lutheran ministry was at Mt. Tabor Church in Augusta County, Va.[2] He took over the leadership the the Hebron Lutheran Church in Madison County, Va. on June 1, 1850.[4][2] He was highly thought of by his congregation increasing its size and introducing Sunday School.[2] He resigned that position in May of 1856 and started the next month at the Lutheran Church in Berne, Albany County, NY.[5][2] By 1870, Alonzo P. Ludden had moved to Cobleskill, Schoharie County, NY where he continued to work as a Lutheran minister.[6] He served Lutheran Churches in the Northeast for 30 years before moving to Lincoln, Nebraska at the end of his life to be near his son Reverend Luther P. Ludden.[2]
Character and Personality
Alonzo P. Ludden was described as a forceful preacher and was very successful at influencing people.[2]
Death
He died on April 2, 1892 in Lincoln, Nebraska.[2]
Obituary
Additional Media
Note with picture at Berne Historical Society: Alonzo P. Ludden was my great grandfather. He came to Berne to be pastor of the Berne Lutheran Church in June 1856. He was there until Nov. 1867. His daughter Laura Ludden married Charles E. Deitz - date Jan 23, 1867. Rev. Ludden married them
Sources
---