Ludden, Laura Jane
From Helderberg Hilltowns of Albany County, NY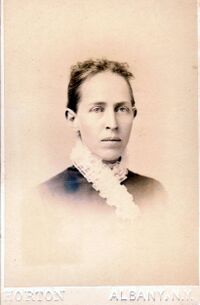 Birth
Laura was the dau. of Alonzo Payson Ludden and Caroline Grove. She was born on November 14, 1847 in Virginia.
Education
Occupation and Life
As a very young woman, Laura was friends with George Warner, and she is mentioned in the George Warner diaries.
Laura was a housewife, and for 40 years, she grew and very often arranged the flowers for the service at the Lutheran church. She did so in April, 1924, when her visiting son, Rev. Dr. Archibald E. Deitz gave the Easter sermon and at which there was a larger-than-usual congregation due to attendance from West Berne and East Berne. Laura and Charles were staunch Lutherans.
In 1917, Charles and Laura celebrated a golden anniversary with a simple but impressive party at their home, attended by their immediate family only, due to the illness of their invalid daughter, Leona. Their immediate family included their seven children and 11 grandchildren which included twins Edith and Earle Hevenor. The entire house was filled with plants, flowers and ferns and a ceremony was held at high noon. They were attended by their eldest son and daughter, Stanton L. Deitz and Mrs. Bertha Hevenor, and their sons Rev. Archibald E. Deitz and Rev. Raymond C. Deitz officiated. Laura wore her silver gray wedding dress of 50 years earlier, and carried a bouquet of white flowers that was a gift from her grandson, Earle Hevenor. Following the ceremony, an elaborate dinner was served, with place cards that were golden wedding bells. Among the decorations was a 61-year-old teapot that was also used at the wedding of Charles' father and mother. Many congratulations were received from relatives and friends.
Marriage & Children
Laura was married to Charles E. Deitz at high noon on January 23, 1867, at the Lutheran Church in Berne, officiated by the bride's father, Rev. A.P. Ludden. Laura wore a silver gray silk wedding dress that was called "moonlight on the lake."
They had seven children.
Rev. Dr. Archibald E. Deitz
Bertha Deitz, wife of Everett L. Hevenor
Grace Deitz, wife of Rev. Dr. John Edward Hoick
Leona Deitz
Rev. Dr. Raymond Charles Deitz
Marion Deitz, wife of Rev. Olney E. Cook
Death
Laura died on November 20, 1924.
Obituary
As published in the Altamont Enterprise on November 28, 1924:
LAURA LUDDEN DEITZ. Entered into life on Thursday, Nov. 20, 1924, Laura Ludden Deitz, widow of the late Charles E. Deitz. A resident of Berne for 71 years, Mrs. Deitz was the eldest daughter in a minister's family; and the lessons of sympathetic service there acquired were lovingly practiced during her whole life. In January 1867, in the Lutheran church, occurred her marriage to Charles E. Deitz; and the home center then established has been ever a gracious and beneficent influence. Seven children shared the wise consel and even more potent example of these honored Christian parents, an inspiration constantly widning in unmeasured blessing. Loyal as daughter and sister, faithful and devoted in an unusual degree as a wife and mother, kindly and considerate as neighbor and friend, earnest and consecrated as a Christian, the consistent beauty of her character was daily manifest in a cheerful serenity of spirit that proved her confident trust in God. Her love for the beautiful prompted her to constant effort in the care of exquisite flowers, which she delighted to share with others; and the wealth of beauty that surrounded her as she lay in her last sleep bore mute testimony to loving appreciation. The funeral service in the Lutheran church on Monday afternoon was conducted by the Rev. Wilson Worman, a former pastor, and the Rev. C.L. Banghart. The community mourns the loss of a noble-hearted, generous woman, who gave ready response to every worthy need; the church she loved will miss her activity and zealous support and the rare glory of her wonderful flowers; but most sorely will she be missed by her family and the invalid daughter to whom she had so tenderly cared for more than ten years. The home with its charming hospitality, will be vacant. But for her, who had "entered into the joy of her Lord" is the blissful certaintly of the final victory; and for her we must rejoice. Six children survive her –Stanton L. Deitz of Albany; Rev. A.E. Deitz D.D. of New York city; Miss Grace Deitz Hoick, of Los Angeles California; Miss Leona Deitz of Berne; Rev. R.C. Deitz of Johnstown; and Miss Marion Deitz-Cook of Springfield, Ohio. Thirteen grandchildren are also numbered in the family. Of her own family, three sisters are living – Mrs. Emma L. Schultz of Montana, and Mrs. Ella L. Crounse and Mrs. Florence L. Crounse of Altamont.
Additional Media
Sources
---