Bogardus, John Jost
From Helderberg Hilltowns of Albany County, NY
Birth
John Jost Bogardus was born on May 16, 1829, a son of Johannes Bogardus and Anna Dietz[1]
Marriage & Children
He married at Berne, NY on May 13, 1855, Martha Catharine Engle who was born on March 7, 1838, a daughter of Christopher Engle and Judith Weidman[1]
Occupation
He was a farm laborer before enlisting in the military
Military Service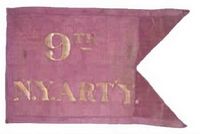 | | |
| --- | --- |
| Residence: | Berne |
| Enlistment Date: | 1 Sept 1864 |
| Enlistment Place: | Albany, NY |
| Enlistment Rank: | Private |
| State Served: | New York |
| Regiment: | 9th Heavy Artillery |
| Company: | Company M |
| Killed in Action on: | 19 Oct 1864 |
| Place of Death: | Cedar Creek, Frederick Co.,VA |
Additional Remarks: Enlisted at the age of 34 years for 1 year. He was a widow at the time of his enlistment.

Born in Berne, NY, age 34 years, Laborer, Blue eyes, Brown hair, Fair complexion, 5'8" tall.[2]
Sources Used: Annual Report of the Adjutant-General for the State of NY for the year 1897
Death
Martha died on July 7, 1862.[1] He was killed in action on October 19, 1864.
Obituary
Additional Research Notes
Additional Media

Sources