Wright, Robert E.
From Helderberg Hilltowns of Albany County, NY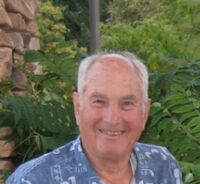 Birth
Robert E. Wright was born February 19, 1936, the son of Howard Wright (15 MAR 1904 - 21 JUN 1985) and Celia Blanche Miller (14 JUL 1912 - 15 NOV 2001). His brother and sister were: [1]
Education
Bob went to school in Fort Lauderdale, Fla until he transferred to Berne-Knox-Westerlo in 1952 as a Freshman and graduated in 1955.
Military
SP4 US Army
Occupation
In Bob's younger years he worked at Cole Hill Farms. After graduation he Served in the U.S.Army for 3 yrs. Sept. 1955 til Sept. 1958. Basic training in Fort Dix, N.J. and was then stationed in Verdun, France for the remainder of his time. Honorable Discharge as SP4th class.
In 1960 he worked for NYC railroad for a yr. & was a substitute rural mail carrier at the same time for Frederick Lendrum on the Berne NY route. In 1961 Bob went to work full time for the NYS Thruway Authority working his way up to Supervisor for the service areas before retiring after 33 yrs. of service in 1993.
Bob & Carolyn bought a 2nd home in Summerfield Fl in 1996 where Bob spent the winters working for others. In 2007-2008 Bob worked w/Ray Manning doing "whatever." He ended up helping put in hardwood floors, a new kitchen, shelving, painting, etc. for $10. an hr.including use of his tools. He also worked at the Trinity United Methodist Church in Coeymans Hollow N.Y. doing the same. Bob & Carolyn completely replaced the tile ceilings in the Church hall & finished the kitchen days before being diagnosed w/bone cancer. Had planned to finish it before leaving for Fl. for the winter, but that didn't happen. We ended up going for radiation treatments at Patroon Creek under the supervision of Dr. Michael Kolodziej. Succeeded in getting rid of the pain, but did not cure the cancer. He died peacefully Christmas morning at St. Peter's Hospital, Albany N.Y.with his loving family by his side. It was just 10 weeks from when he was diagnosed with the bone cancer until he died.
Bob's hobbies including square dancing, riding his ATV and snowmobiling in the winter. He owned a motorcycle & camping trailer when the boys were little. Enjoyed camping as a family going w/friends to Sacandaga, Thompson's Lake, Canada, Maine, Mass., + . When Derek & Garth were in school, Bob coached their baseball teams for many yrs. & also helped out coaching Pop Warner football. He SELDOM missed a baseball, football, basketball, tennis, or swim meet competion & often went to the practices as well. Bob was very proud of his sons accomplishments in sports and in academics. Derek graduated from RCS in 1982 & RIT as an electrical engineer in 1988 and Garth graduated as valedictorian of RCS in 1985 & RPI in 1989 with a major in industrial engineering & a minor in economics.
Marriage & Children
Robert Eugene Wright married Carolyn Frances Miller, the daughter of Hubert Henry Miller and Frances Ima Becker Sept. 1962 in St. Paul's Lutheran Church in Berne. Their children were: [1]
Derek Robert (Abt 1964 - )(Debbie) Wright of Elgin, Ill.
Garth Robert (January 10, 1967 - )(Brian Davis) Wright of San Francisco, Calif.
Death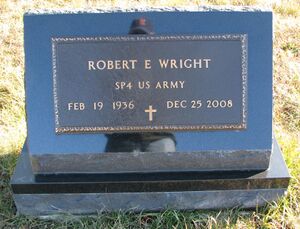 Robert Wright died December 25, 2008 in St. Peter's Hospital.
Obituary
Wright, Robert E.: Newspaper Obituary and Death Notice
Times Union, The (Albany, NY) - Saturday, December 27, 2008
Deceased Name: Wright, Robert E.
RAVENA Robert E. Wright, 72, died December 25, 2008. Robert is survived by his wife of 46 years, Carolyn Miller Wright; two sons, Derek (Debbie) Wright of Elgin, Ill. and Garth (Brian Davis) Wright of San Francisco, Calif.; a brother, George (Judith) Wright of Berne; a sister, Barbara Eriksen of Berne; he is also survived by many nieces and nephews. Robert is predeceased by his parents, Howard and Celia Wright; and his grandmother, Christina Miller. A funeral service will be held on Sunday, December 28, 2008 at 4 p.m. at the St. Paul's Lutheran Church in Berne. Friends may call prior to the service from 12 p.m. to 3 p.m. at the Fredendall Funeral Home, Altamont. A spring burial will occur in Woodlawn Cemetery. In lieu of flowers, donations may be made to Trinity United Methodist Church, PO Box 8, Coeymans Hollow, NY 12046 or the American Cancer Society, 260 Osborne Road, Albany, NY 12211.
Edition: Final Edition Page: B5 Copyright, 2008, (c) Times Union. All Rights Reserved.
Additional Media
Robert Wright's friends may wish to know his address, which is: Pvt. Robert E. Wright, RA12477391, Co. H., 365th Infantry Regiment, Fort Dix, New Jersey.
Altamont Enterprise - September 23, 1955
Announce Birth of Son
Mr. and Mrs. Robert E. Wright of 1990 New Scotland Rd, Slingjerlands, announce the birth of their second son, Garth Robert, on Jan, 10 in Ellis hospital, Schenectady. Their first son is three year-old Derek Robert. The former Miss Carolyn Miller, Mrs. Wright is the daughter of Mr. and Mrs. Hubert H. Miller of East Berne;. The paternal grand-parents are Mr. and Mrs. Howard H. Wright of Fort Lauderdale, Fla.
Altamont Enterprise - January 20, 1967
Robert E. Wright: Social Security Death Index (SSDI) Death Record
Name: Robert E. Wright
State of Issue: New York
Date of Birth: Wednesday February 19, 1936
Date of Death: Thursday December 25, 2008
Est. Age at Death: 72 years, 10 months, 6 days
Confirmation: Verified
Last known residence:
City: Ravena
County: Albany
State: New York
ZIP Code: 12143
Latitude: 42.4898
Longitude: -73.8494

Sources
---