Diaries of George H. Warner
From Helderberg Hilltowns of Albany County, NY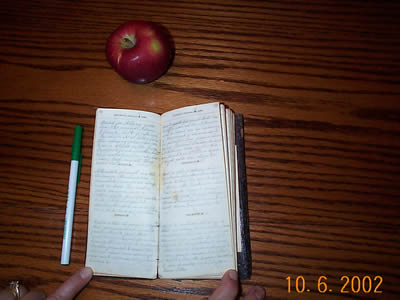 The Civil War diaries of George H. Warner from 1862 and 1863 are posted on the Berne Historical Project site.
Pvt. George H. Warner was born on August 23, 1845, when his father, John Warner was 37, and his mother Catherine West Warner, was 24. They lived in a small brick house across from St. Paul's Lutheran Church in Berne, N.Y.
George was 17 years old when he went off to war with the 177th New York State Volunteers infantry regiment. Private Warner's regiment experienced only 42 days of actual combat. (May 25 - July 5, 1863) Except for this six-week period under fire battle was with disease, work, drills, boredom, and malnutrition. He died September 28, 1863, at home, from the sickness he had contracted while serving in the Union Army in Louisiana. He was 18 years, one month and five days old.
The following January his younger brother, Peter William Warner, lied about his age and joined the Union Army. Peter died November 1864 in Andersonville Prison at the age of 15 and was buried there at Andersonville, Georgia.
---
List of area soldiers from Warner's 1862 Diary
List of Soldiers in the Albany Co. Regiment from Berne Residence: Lucius Ball, Henry Ball, John B. Shultes, Charles Bogardus (all from Switzkill), William Mc Cullouch (Reidsville), William Wilbur, Henry Post, Jacob Haverly (all from Berneville), Nelson Matice, Orville Merihue, William Haverly, William Blade (all from Peori), Elias Shafer (Switzkill), Siras Barber, William Shultes, Adison Miller, James Fermin, G. H. Warner, J. D. Wood, Alonzo Ludden, George Stiner, David Stiner, Isac Dietz, Joel Wilson (all from Knox), David Gathan (Ren), Oct. 13- Albert Bell, Charles Hochstrasser, Charles Rinhart, William Bell, Norton Zeh.
List of people mentioned in Warner's 1863 diary
Corporal Hallenbeck X
Fred Brickner
Jededia Tompkins X (from Middleburgh)
Alonzo Hempstreet
Capt. Harris
Abigail Engle - girl at home (dau. of Ira Engle)
Lt. Phillips
Lieutenant J. White
Richard M. Strong X
Captain Tomlinson
Lt. Williamson X
Brigadier General Nickerson
Mat Ball (Madison Ball)
Jesse D. Wood (See Note) X
George Joise X
Mann (Co. C)
William Merselis
Col. Ainsworth
Elias Nashold
Sgt. Wood
Lieutenant Bennet
John Blackman X
Joel Wilson (See Note) X
Robert Douglas X
Lieutenant Bronson
Cpl. Thomas
Lieutenant Lintener
Arthur Haswell - Knox X
Armilla Bedell - at home - died in February 1863
Mathia Hook
A. G. Ludden (Alonzo Grove Ludden)
Frank Cortney X
Captain Morgan L. Filkins
Captain MacRoberta
W. E. Becker
________ Folka
Jerome Ecker
Henry A. Crary
Captain Harris
Jerry Nashold [Jeremiah Nashold, Town of Wright, Schoharie)
Libbie R. Engle - girl at home
Corporal Niblock
William Rice
George Reynolds
John W. Mullens
Madison Settle [of Schoharie County]
Edward Stephenson
Cpl. Quelie Lenard Harington
Jacob Sherman X
Richard Wood
Sgt. Brigman X
Cpl. Baranger X
Johnny Springer
Lt. Russia X
X = Died
Notes
Some of the soldiers mentioned in George's diary were not from Berne, but from adjoining townships of Knox and Wright. A few were from Schoharie County. These people were all grouped together in one area of conflict.
The bodies of Joel Wilson and Jesse D. Wood, both of whom died from the fever at Port Hudson, Louisiana in August 1863, were brought home to Berne by Captain Morgan L. Filkins for burial.