The New York Times July 19, 1866 Article
From Helderberg Hilltowns of Albany County, NY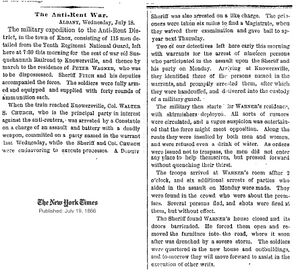 The Anti-Rent War.
ALBANY, Wednesday, July 18.

The military expedition to the Anti-Rent District, in the town of Knox, consisting of 115 men detailed from the Tenth Regiment National Guard, left here at 7:30 this morning for the seat of war via Susquehannah Railroad to Knowersville, and thence by march to the residence of PETER WAGNER, who was to be dispossessed. Sheriff Fitch and his deputies accompanied the force. The soldiers were fully armed and equipped and supplied with forty rounds of ammunition each.

When the train reached Knowersville, Col. Walter S. Church, who is the principal party in interest against the anti-renters, was arrested by a Constable on a charge of an assault and battery with a deadly weapon, committed on a party named in the warrant last Wednesday, while the Sheriff and Col. Church were endeavoring to execute processes. A Deputy Sheriff was also arrested on a like charge. The prisoners were taken six miles to find a Magistrate, when they waived their examination and gave bail to appear next Thursday.

Two of our detectives left here early this morning with warrants for the arrest of nineteen persons who participated in the assault upon the Sheriff and his party on Monday. Arriving at Knowersville, they identified three Of the persons named in the warrants, and promptly arrested them, after which they were handcuffed, and delivered into the custody of a military guard.

The military then started for WARNER'S residence with skirmishers deployed. All sorts of rumors were circulated, and a vague suspicion was entertained that the force might meet opposition. Along the route they were insulted by both men and women, and were refused even a drink of water. As orders were issued not to trespass, the men did not enter any place to help themselves, but pressed forward without quenching their thirst.

The troops arrived at Warner's room after 2 o'clock, and six additional arrests of parties who aided in the assault on Monday were made. They were found in the crowd who were about the premises. Several persons fled, and shots were fired at them, but without effect.

The Sheriff found Warner's house closed and its doors barricaded. He forced them open and removed the furniture into the road, where it soon after was drenched by a severe storm. The soldiers were quartered in the new house and outbuildings, and to-morrow they will move forward to assist in the execution of other writs.

The New York Times July 19, 1866