Pine Grove Cemetery (Lutheran Church Cemetery)
From Helderberg Hilltowns of Albany County, NY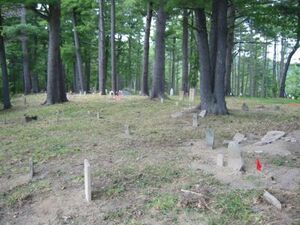 Location
Half way between the hamlets of Berne and East Berne on the south side of Helderberg Trail in a grove of Pine Trees. There is a NYS Historical Marker along the road side telling commemorating the founding in the first Lutheran church in Berne.
Description
In a grove of pine trees. Front 89 feet, sides 300, back 50 feet. The front half of the cemetery is mowed fairly frequently; the back half may be overgrown as the grass is cut less frequently.
History
Started as the Zeh and Warner families burying ground. The earliest stone found so far is dated 1777, almost two decades before the Lutheran church was built. Among the family names are Zeh, Warner, Strevell, Martin, Tompkins, Wagoner, Nelson, Hannay, and Bradt. The latest stones are dated in March 1871, when three Strevell children, aged one to five years old, died in an eight-day period. In the 19th Century the Berne and Beaverdam Cemetery was also called the Pine Grove Cemetery, creating some confusion. In 1955 the cemetery was an impenetrable thicket of thorny brush, beneath second-growth pines. That year the Luther League of St. Paul's Lutheran Church began clearing it; since then the Town has periodically cleared the brush. The front part is currently kept mowed by the neighbor on the west. As part of the Berne Heritage Days activities over Labor Day Weekend 2002 the Pine Grove Cemetery was restored. Following early church services on Sunday morning, September 1, the Boy Scouts of Berne and 4-H clubs assisted local church congregants, and visiting out-of-town descendants of Berne ancestors in clearing the underbrush, filling sunken graves, and righting fallen and leaning stones. At the conclusion, a New York State Historical Marker was placed near the road to mark the 1790 organization of the first Lutheran Church in the Town of Berne. After the morning work session there was a community covered-dish picnic lunch at the cemetery.
Transcription of stones
The Berne Historical Project site has a partial listing and photos of stones
The New York Gravestones site also has posted photos of stones from this cemetery by Thomas Dunne. Look under the name Lutheran Church Cemetery.